Christopher Ryan: The Party Palace, kingmaker on Elgin
_ A weekly feature from Christopher Ryan , a local photographer, blogger and researcher. It appears every Friday on our blog. _
[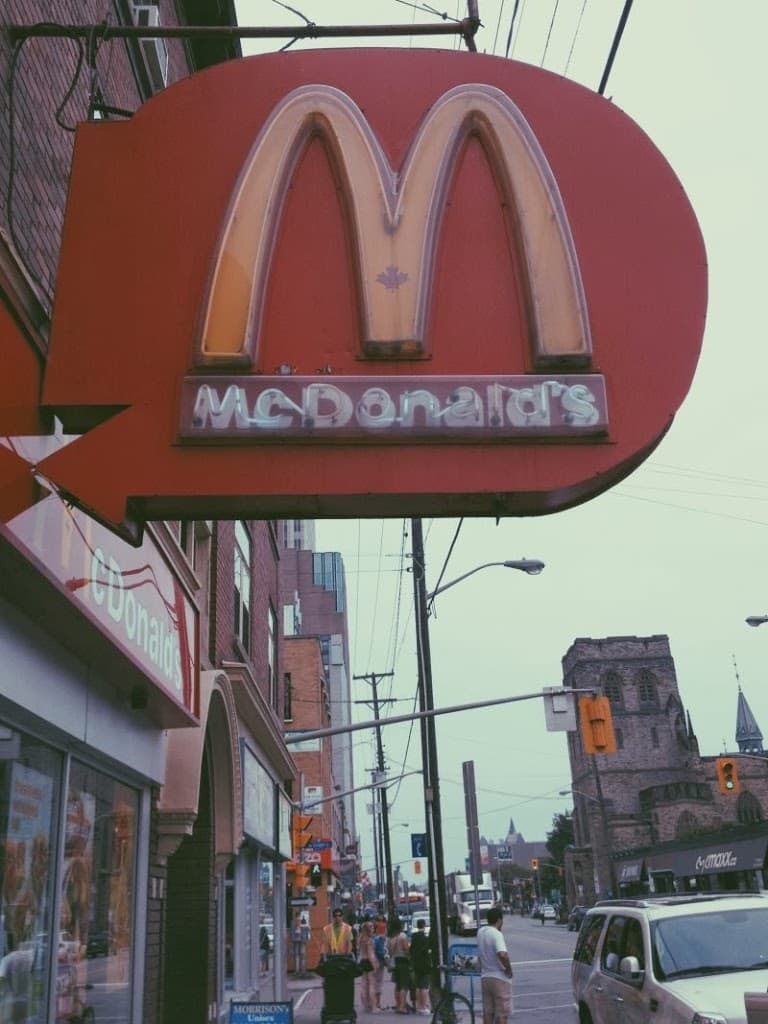 ](http://ottawastart.com/wp-content/uploads/2013/11/01-Today.jpg)

This sign just wouldn't be possible today. McDonald's, formerly the Party Palace, August 2013.
** UPDATE: ** Thanks to Andrew King for sending along this photo of the old Party Palace sign, next to the new.
[

](http://ottawastart.com/wp-content/uploads/2013/11/BaVKx5OCUAAuzEW.jpg-large.jpeg)
[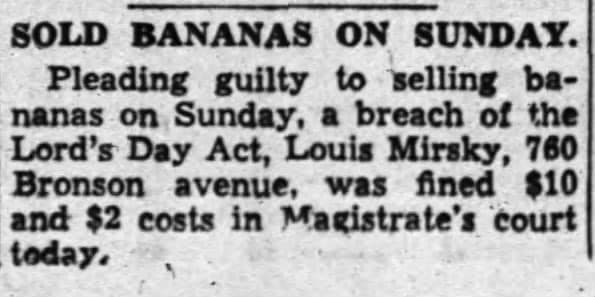 ](http://ottawastart.com/wp-content/uploads/2013/11/02-1940-07-26-Mirsky-Bananas-Sunday-Page-2.jpg)

Mirsky: Violator of the Lord's Day Act.
  As it would be, Ottawa was the rebellious end


  of Ontario when it came to the Act.


  Source: Ottawa Journal, July 26, 1940.

By the early 1950s, the transformation of Elgin Street into a commercial strip had really taken hold. With the Elgin Theatre making its appearance on the old Protestant orphanage lot in 1937, along with a number of other businesses, the Elgin we know today was taking form. When Dave Polowin and Louis Mirsky returned from their tour of duty in Europe in 1946, neither were entirely certain what they'd like to do. Both, however, did have experience in sales and retailing, so they decided to put their talents together and purchased the Normandie Soda Bar at 250 Elgin.
After nine years operating the Normandie, "Dave and Louis" had developed a bigger vision. Centretown had been growing fairly rapidly. New apartments were being constructed regularly and, looking at the social pages, they not only popular among young civil servants and newlyweds, but also a striking number of the city's business community. This part of Centretown hadn't yet received a supermarket (the Elgin IGA was completed and opened in 1959) and both Dave and Louis heard many customers complaining that there was nowhere nearby to secure foods for last-minute dinner guests or appropriate items for a poker night. The Party Palace was born.
[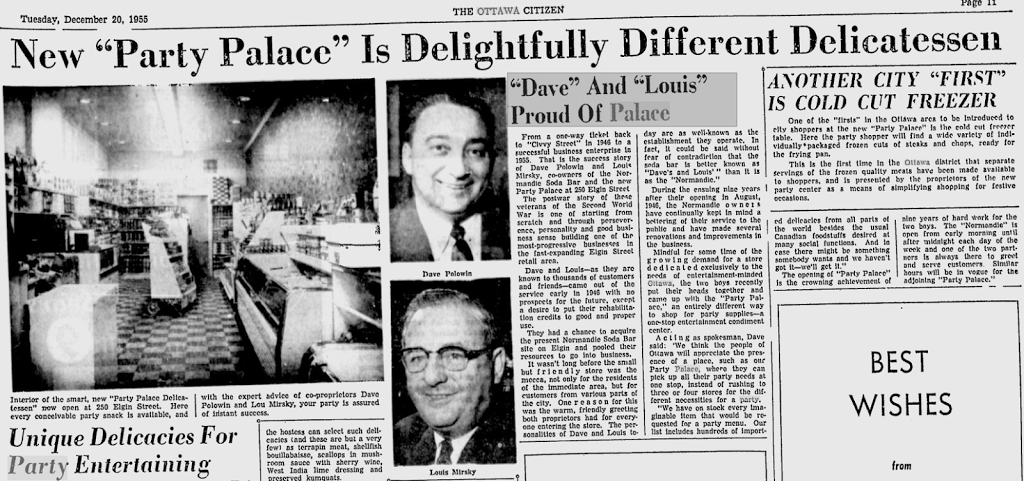 ](http://ottawastart.com/wp-content/uploads/2013/11/03-1955-12-20-Palace-Opens-Page-11-Citizen-1-of-3-.png)

Advertorial announcing the opening of The Party Palace. Source: Ottawa Citizen, December 20, 1955.
Determined to both make a splash and serve an important and underserved market surrounding Elgin, the pair sought to carry anything and everything needed to entertain. Local residents wouldn't be able to miss it either: it opened with a 42sq.ft. neon sign, complete with arrow, beckoning one in.
The Palace was immediately a hit. Highly popular with locals and visitors alike, Polowin and Mirsky established a unique business that hardly went a day without being mentioned in either the Citizen or Journal. Whether it was due to the exotic products they carried, such as elephant, whale, or turtle, or their willingness to bring in any new product and see if it worked. The Party Palace made national news in the late spring of 1957 when they became the first non-licensed outlet in the province to stock American "near beer". A bemused Dave Polowin was quoted as saying "I don't know why people come here for the stuff when they can get a better drink cheaper at a beer store."
[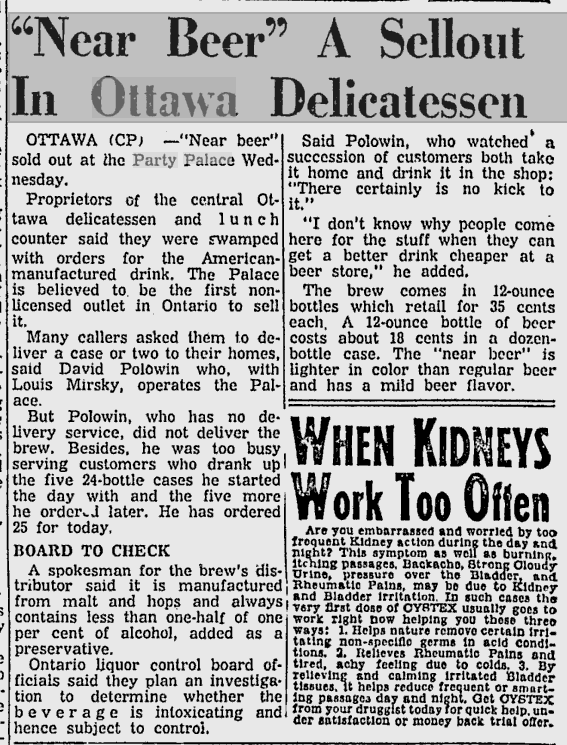 ](http://ottawastart.com/wp-content/uploads/2013/11/04-1957-05-30-Near-Beer-Page-6-Saskatoon-Star-Phoenix.png)

He'll continue to stock it until it doesn't sell, but doesn't quite understand. Note that the LCBO planned an "investigation" to ensure that it had no intoxicating effects. Can only imagine how that went.
  Source: Saskatoon Star-Phoenix, May 30, 1957.

Indeed, The Party Palace was so popular that the pair opened another outlet in the new Manor Park Development. Although it did not remain open for long, the Manor Park outlet was graced by star of stage and screen, Joan Fairfax (Music Hall, The Denny Vaughan Show, The Joan Fairfax Show) in March of 1957.
[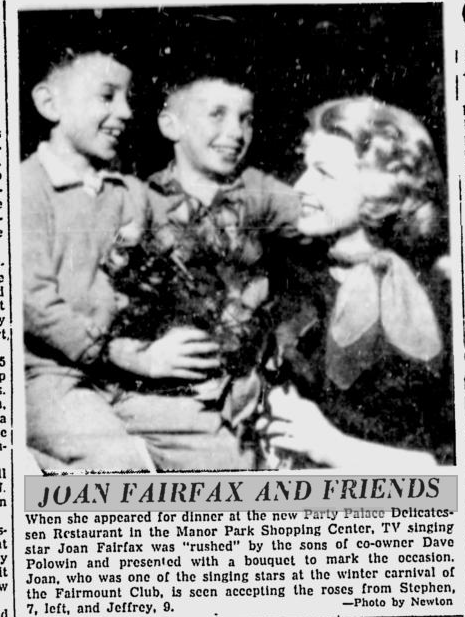 ](http://ottawastart.com/wp-content/uploads/2013/11/05-1957-03-02-Manor-Park-Party-Palace-Citizen-Page-5.png)

Fairfax was given flowers by Polowin's sons. In 1961, Fairfax, like so many Canadian performers found the country limiting and decamped for the United States. There, she appeared on the Ed Sullivan, Jack Parr, and Lawrence Welk Shows. She also toured the US as "Canada's Blonde Bombshell, The New Ina Ray Hutton." Source: Ottawa Citizen, March 2, 1957; The Canadian Encyclopedia.
[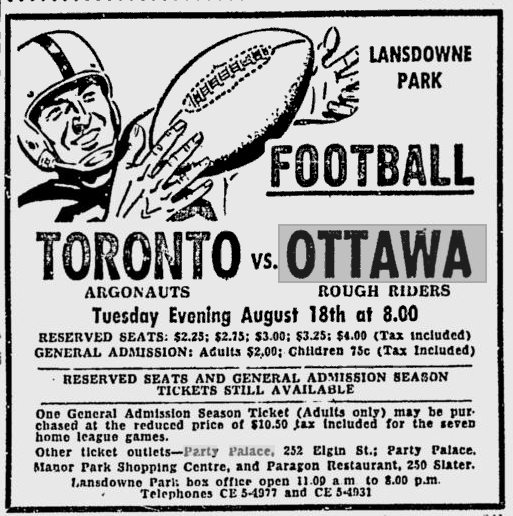 ](http://ottawastart.com/wp-content/uploads/2013/11/06-1959-08-17-CFL-Tickets-Citizen.png)

Tickets avaialble at Party Palace.
  Source: Ottawa Citizen, August 17, 1959

In an attempt to continue replicating the success, the pair continued to open restaurants, including The Paragon ("Where steak is king") at 255 Slater in August 1959. The business partners also forged strong ties with the CFL, securing their three restaurants as official ticket outlets for Ottawa Rough Riders games. Being a source for tickets is something that the Party Palace would continue until it closed.
The 1960s marked a change in ownership for The Party Palace. Dave Polowin, seeing an even brighter future elsewhere decided to leave the business. He first attempted to open a number of restaurants, which were unsuccessful and a car accident left him unable to hold on. After he recovered from his injuries and paid off his debts, he entered the real estate game and was very successful. The Palace was then sold to Ernie Potechin with Louis Mirsky remaining very much an integral part of the business and a fixture at the front counter until his death.
[

  ](http://ottawastart.com/wp-content/uploads/2013/11/07-1976-03-17-Mirsky-St-Paddys-Journal-Page-1.jpg)

Louis "O'Brien" Mirsky.
  Source: Ottawa Journal, March 17, 1976

As luck would have it, Potechin had very much the same self-promoting and entrepreneurial bent that his predecessors did. Before long, his self-styling as the "King of Elgin" stuck and all references to "self-styled" were dropped by the mid-1970s: he received his crown. At some point in the interim (I am unclear as to the specific date), the Manor Park outlet had closed. Potechin, however, knew that his kingdom could not possibly be limited to Elgin.
[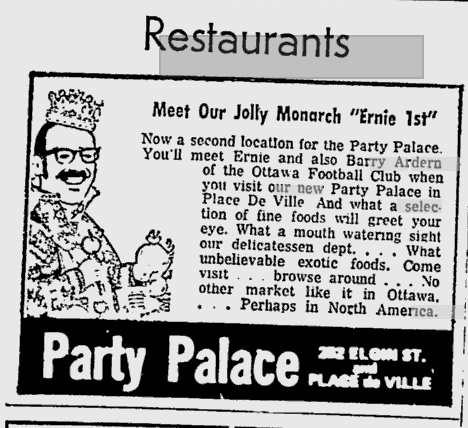 ](http://ottawastart.com/wp-content/uploads/2013/11/08-1972-02-04-New-Outlet-Place-de-Ville-Citizen-Page-31.png)
After having successfully fought City Hall on the antiquated early closing by-laws, expansion was in the mix. In 1972, Potechin opened a Party Palace in the Place de Ville development and the following year, he opened another in Bells Corners in the new Bell Mews strip mall. In both cases, Potechin always reported brisk sales at both outlets. Their Bratwurst were apparently the hot item in Bells Corners and their selection of coffees and teas were hot at Place de Ville.
Perhaps the popularity of the Party Palace was indeed more tied up in the charismatic owners, staff, and the personal relationships they forged with people in the community. It may not have been the food, as seen in a review of delicatessens in the city by Paula Collins that was run in the Citizen on June 24, 1972.
[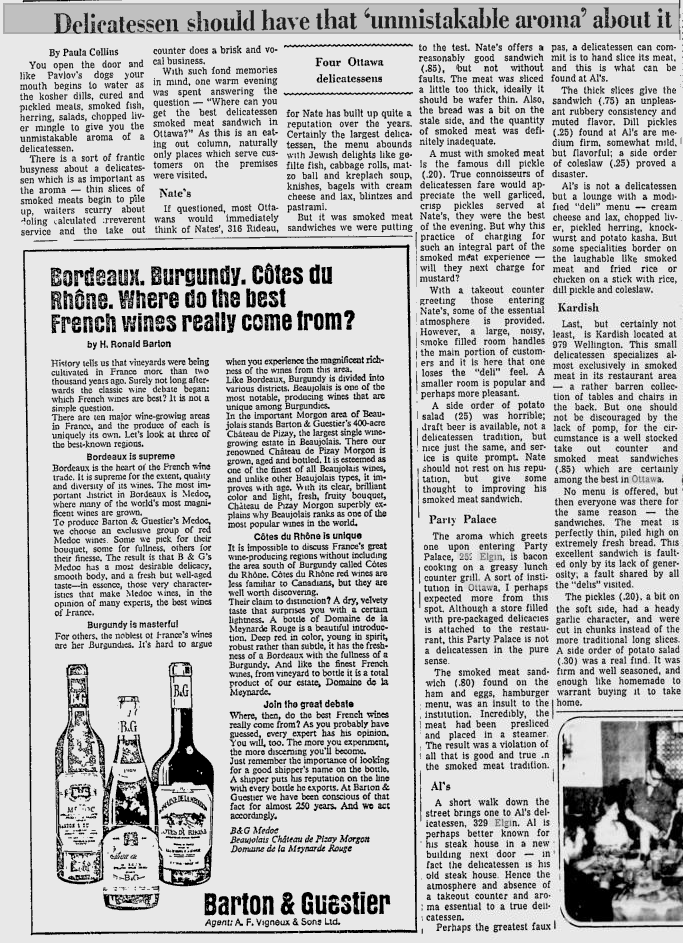 ](http://ottawastart.com/wp-content/uploads/2013/11/1972-06-24-Deli-Reviews-Page-34-Citizen.png)
_ The aroma which greets one upon entering Party Palace, 252 Elgin, is bacon cooking on a greasy lunch counter grill. A sort of institution in Ottawa, I perhaps expected more from this spot. Although a store filled with pre-packaged delicacies is attached to the restaurant, this Party Palace is not a delicatessen in the pure sense. _ _ The smoked meat sandwich (.80) found on the ham and eggs, hamburger menu, was an insult to the institution. Incredibly, the meat had been presliced and placed in a steamer. The result was a violation of all that is good and true in the smoked meat tradition. _
Nevertheless, The Party Palace kept right on doing good business, slicing (or at least steaming) brisket, and selling exotic meats. As the years wore on, however, and the long-term staff retired, or in the case of Mirsky, passed away (1983), it became increasingly difficult to keep the doors open.
[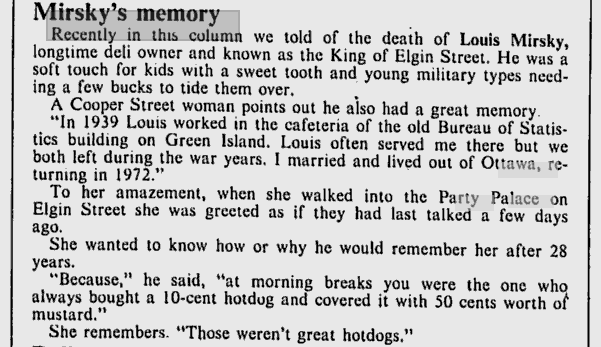 ](http://ottawastart.com/wp-content/uploads/2013/11/09-1983-01-05-Louis-Mirsky-Death-Memories-Citizen-Dave-Brown-Page-25.png)

A Cooper Street woman sums up the enduring appeal of The Party Palace.
  Source: Ottawa Citizen, May 1, 1983.

It was in 1996 that McDonald's took over the space, and the sign along with it. Under the current by-law, the sign is non-conforming and in 1997, a number of Elgin businesses along with the Centretown Citizens' Community Association sought to have McDonald's reduce its size and bring it in line with the remainder of Elgin's businesses.
For my own part, I'm happy that it has remained. Although it is not the original Party Palace sign, it nevertheless remains one of the few of such neon signs remaining in the city. A reminder of the sort of neon-fueled animation that commercial streets once had.
** If anyone might have a picture of the original sign, I'd be stupendously happy to see it as I have been unsuccessful in locating it. **
_ – Text by Christopher Ryan _ **
** **
** ** See also: ** Ottawa History Guide
If you liked this post, you should ** subscribe to etcetera , ** our free email newsletter. Featuring cool Ottawa events, interesting local news and contests and giveaways. Thanks!