Christopher Ryan: Rupert McLelland's distinctive rounded entrances
_ A weekly feature by Christopher Ryan , a local photographer, blogger and researcher. It appears every Friday on our blog. _
_
_ _
_
[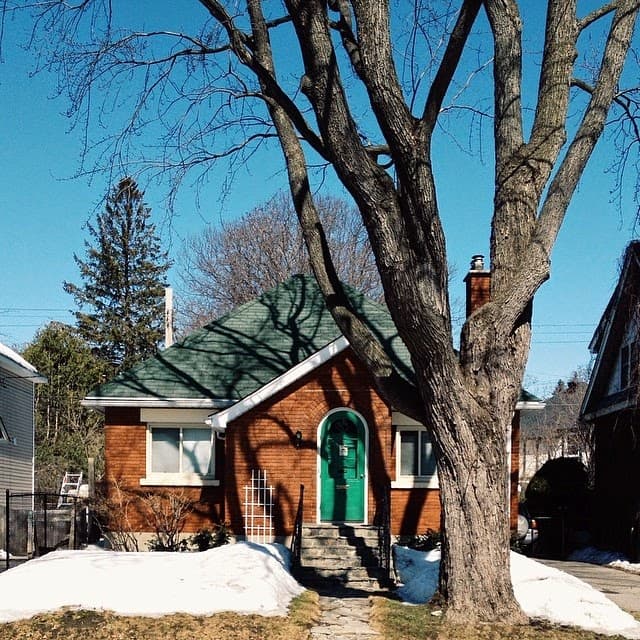 ](http://ottawastart.com/wp-content/uploads/2014/04/01.-Rupert.jpg)
_ When you see them, you can't unsee them . Mason Terrace, at one time the epicentre of Ottawa's single largest housing development features homes with rounded front entrances. April 2014. _
I must concede that I've spent so much time looking at Ottawa's construction booms before and after the Second World War that it hadn't occurred to me that Ottawa experienced one during the War too. Whether it was the larger bureaucracies demanded by Depression-era relief projects, the exceptionally large number of civil servants demanded by the war effort, or the postwar growth of the Welfare State, all those Ottawans needed somewhere to live.
This past weekend I decided to take one of my patented long, meandering walks. Aside from hitting the expected sorts of places , I decided to take a stroll through those residential borderlands between Old Ottawa South and (Old) Ottawa East. Once I hit Mason Terrace, Mount Pleasant, and Brown Streets, I had noticed that the majority of front doors were rounded at the top. Both cute (on the smaller singles in particular) and distinctive, when the majority of all doors everywhere are concerned. Naturally, I was curious.
[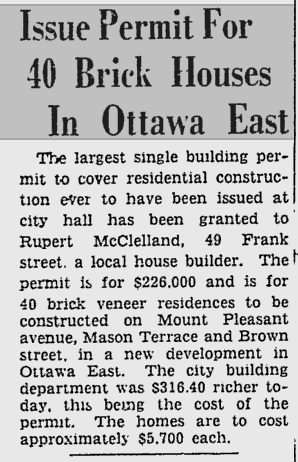 ](http://ottawastart.com/wp-content/uploads/2014/04/02.-1943-11-08-Record-Building-Permit-Citizen.png)
_ Not quite Alta-Vista, but a record is a record. While war was raging overseas, Rupert McClelland was housing Ottawans. Source: Ottawa Citizen, November 8, 1943. _
Although McClelland's name does not enjoy the same sort of recognition as other Ottawa developers, his homes and projects constructed between 1939 and 1949 have a certain distinctive feature that others do not.
[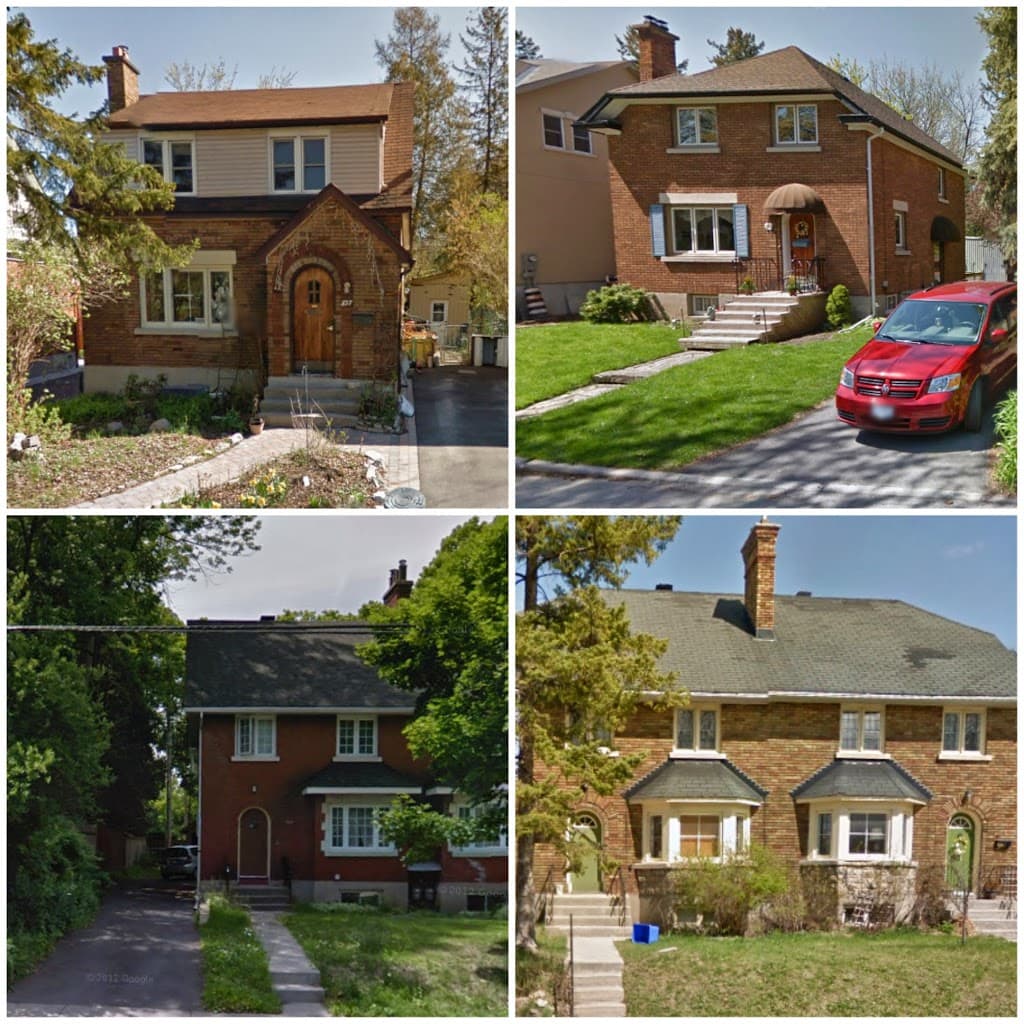 ](http://ottawastart.com/wp-content/uploads/2014/04/03.-Grid.jpg)
_ Yes: it's the rounded front doors. Aside from the homes around Mason Terrace (as pictured at the top of the story), there are a large number of homes around Ottawa that are a McClelland project. Pictured clockwise are his homes at Marlborough Ave., Leighton Terrace, Breezehill, and Holland Ave. There is a good chance that if you live within the Greenbelt in a home with a rounded front door constructed during the War, it was built by Rupert McClelland. Image source: Google Streetview (Spring-Summer 2012). _
Before the record-setting project in Ottawa East, McClelland had generally spent his time constructing a small number of homes around Ottawa: most often doubles, but a number of bungalows as well. While they haven't all survived the ravages of time, many of his trademarked rounded doors are are enjoyed by residents on Marlborough (Sandy Hill), Renfrew (The Glebe), Muriel (The Glebe), and Breezehill (Hintonburg) among others.
[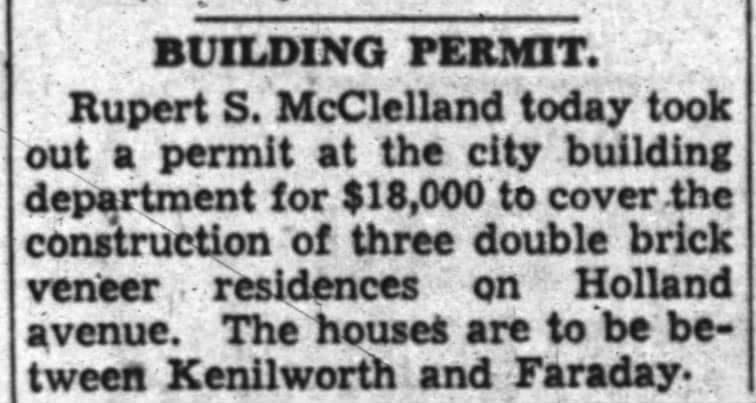 ](http://ottawastart.com/wp-content/uploads/2014/04/04.-1940-11-18-Holland-Page-12.jpg)
_
Most of McClelland's building permits before the Ottawa East project consisted of less than a half-dozen homes. Source: Ottawa Journal, November 18, 1940. _
The distinctive doors were likely manufactured at his own factory, which was located at 120 Parkdale on what is now Tunney's Pasture. It seems to be a good bet that McClelland's homes reverted to more conventional entrances following the destruction of his factory by fire in August of 1949. The property was expropriated shortly thereafter by Public Works for the construction of a building for the Department of Trade and Commerce (Industry Canada).
[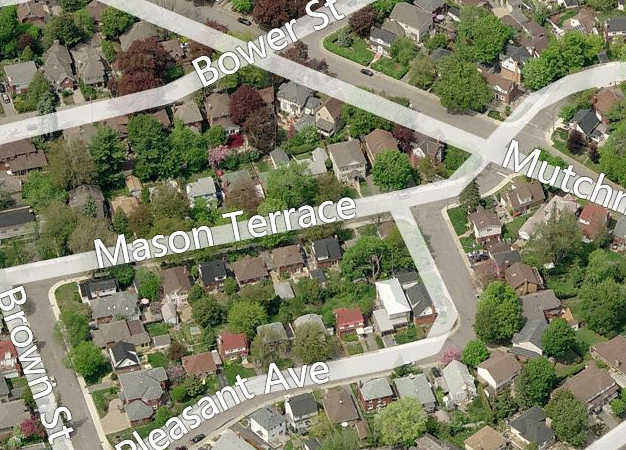 ](http://ottawastart.com/wp-content/uploads/2014/04/05.-Mason.png)
_ A birds-eye of the neighbourhood today. Source: Bing Maps. _
In the fall of 1942 an opportunity came up for the purchase of a number of lots near Main Street. The land, which was owned by the Public School Board and known as the Whitcomb Property, was considered surplus and the best use, it was thought, was for housing. Housing, of course, was something that Ottawa was in an eternal short supply of.
[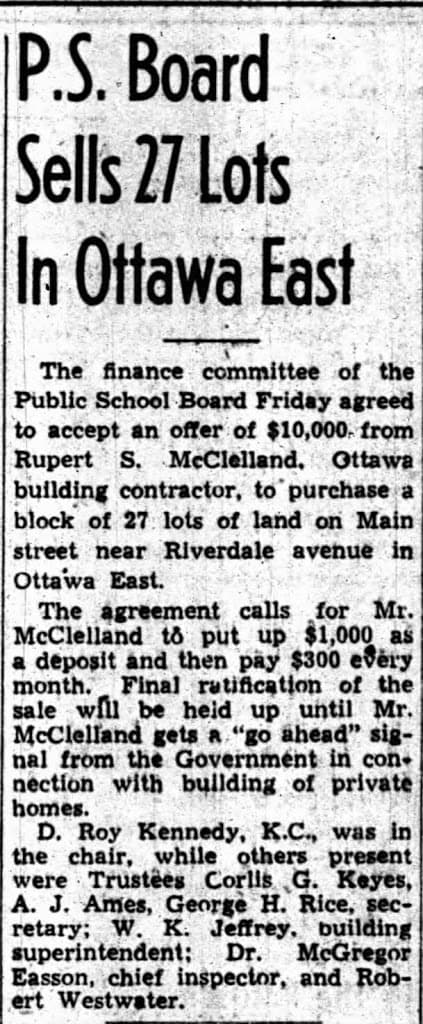 ](http://ottawastart.com/wp-content/uploads/2014/04/06.-1942-11-28-McClelland-School-Lot-Ottawa-East-Page-9.jpg)
_ McClelland's big gambit began in 1942. Source: Ottawa Journal, November 28, 1942. _
In January of 1943 as McClelland had begun construction of the first eighteen homes, more of the details surrounding the purchase were revealed. McClelland's project was the single largest component to a project that was being undertaken by the Ottawa Home Builders' Association that would see the construction of 300 homes to alleviate the shortage. Among the conditions applied to the sale of the Whitcomb Property were:
_ – Ottawa Journal, January 8, 1943. _
Once all of the details were set, construction proceeded rapidly. Streets were laid and the homes were constructed in batches of 15-20 at a time. Always the family man, Mason Terrace was named by McClelland after his brother.
[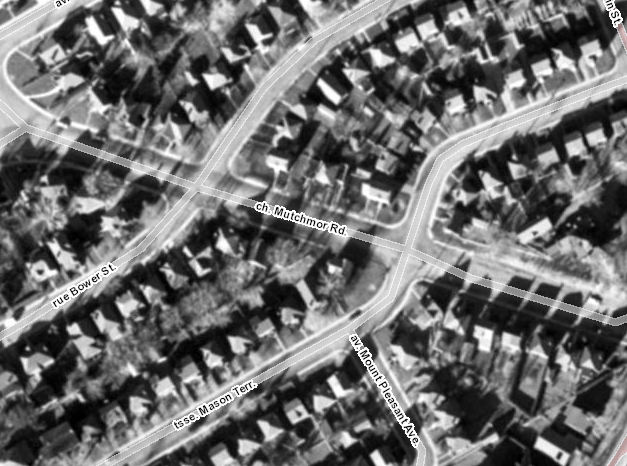 ](http://ottawastart.com/wp-content/uploads/2014/04/07.-1958.png)
_ The neighbourhood at 15 years. Source: City of Ottawa, geoOttawa, 1958 Aerials. _
[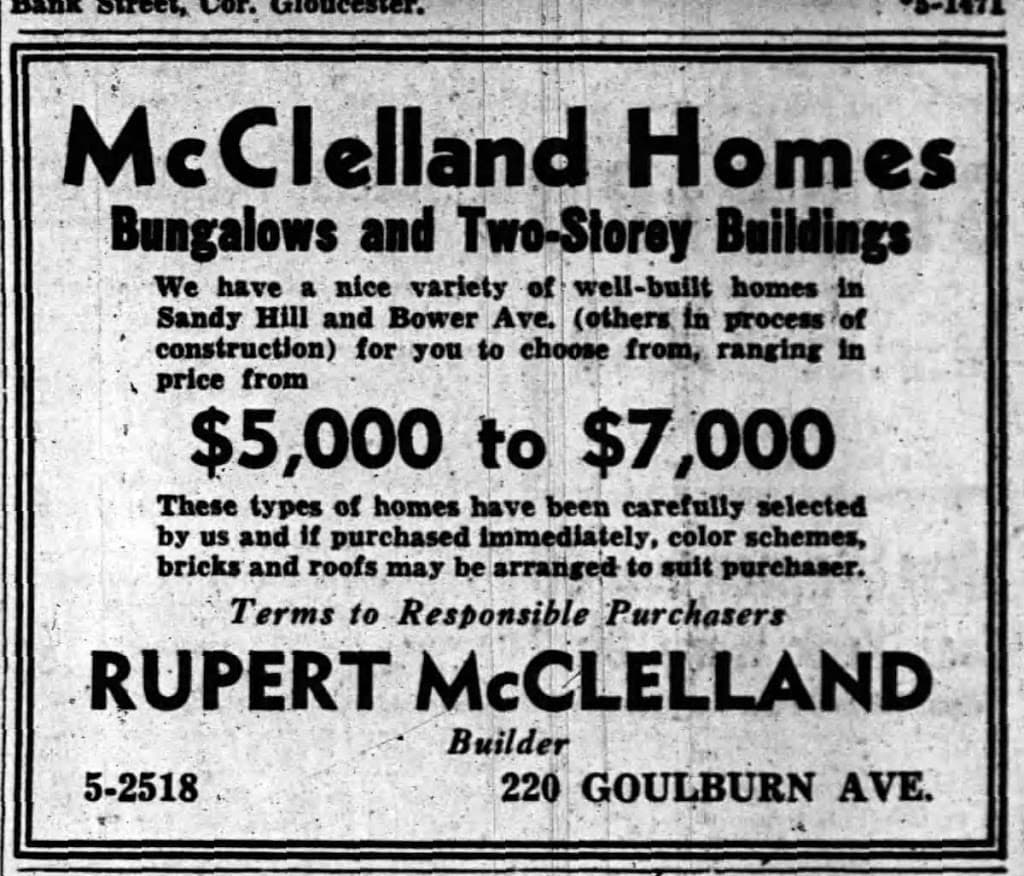 ](http://ottawastart.com/wp-content/uploads/2014/04/08.-1943-04-08-McClelland-Ad-Page-21.jpg)
_ "Terms to Responsible Purchasers." Source: Ottawa Journal, April 8, 1943. _
From that point onward, the sky was the limit. Once the Ottawa East project was completed, McClelland proceeded to replicate that success in the city's west as well. Named after another one of his brothers, McClelland's Leighton Terrace development (off Island Park) was completed in 1945.
[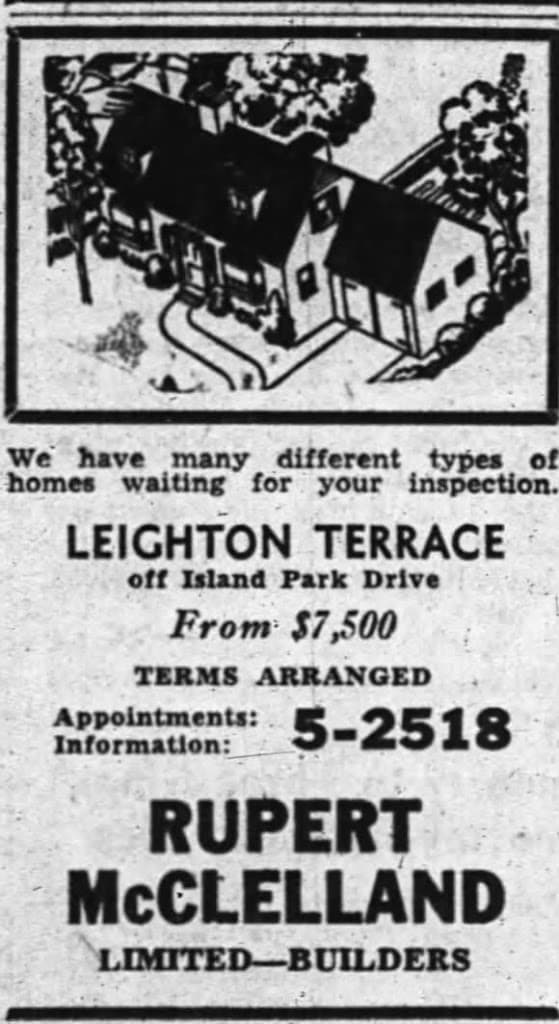 ](http://ottawastart.com/wp-content/uploads/2014/04/09.1945-09-22-Leighton-Terrace-Page-2.jpg)
_ True to his advertisements, Leighton Terrace is home to a number different models of home. Source: Ottawa Journal, August 28, 1945. _
As with most active developers, Rupert McClelland would go on to construct larger projects on larger parcels and taller buildings on small parcels. He would also go on to purchase a number of downtown properties. That will, however, be a story for another day.
_ – Original photos & text by Christopher Ryan.
(See more on our blog from Christopher…) _
** See also: ** Ottawa History Guide
If you liked this post, you should ** subscribe to etcetera , ** our free email newsletter. Featuring cool Ottawa events, interesting local news and contests and giveaways. Thanks!