Christopher Ryan: Community Spirit at the West End YWCA
_ A weekly feature by Christopher Ryan , a local photographer, blogger and researcher. It appears every Friday on our blog. _
[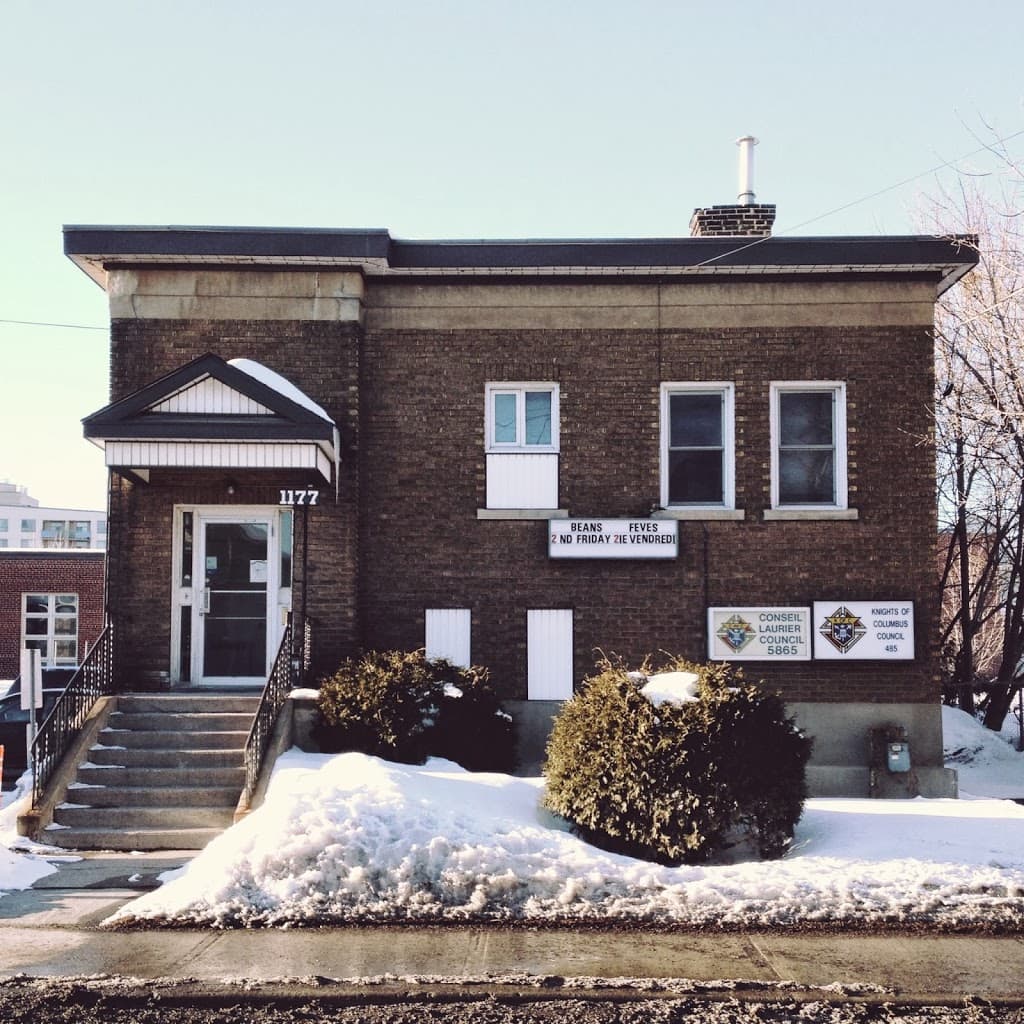 ](http://ottawastart.com/wp-content/uploads/2014/03/01.-Photo-3-6-14-4-37-26-PM.jpg)
_ The Knights of Columbus Hall at 1177 Gladstone began life as the West End YWCA. _
When passing this fairly nondescript edifice at 1177 Gladstone, it's normally the sign advertising the monthly bean dinner that grabs my attention. In and of itself, the bean dinner is offered in the halls of service organizations all over the country, and though a little amusing (at least I always get a little chuckle), is only part of the history being currently made at the address. Like most of Ottawa, a city with a built environment dominated by vernacular architecture designed by those with reasonable hair, the stories embedded in our built environment are more tied up in the people and their activities than in the specific design.
1177 Gladstone was the result of the hard work and dedication of the Hintonburg YWCA. Constructed in those latter days of the Depression when some signs of recovery were beginning to show themselves, the West End YWCA building was a welcome facility for the whole west end of the city.
[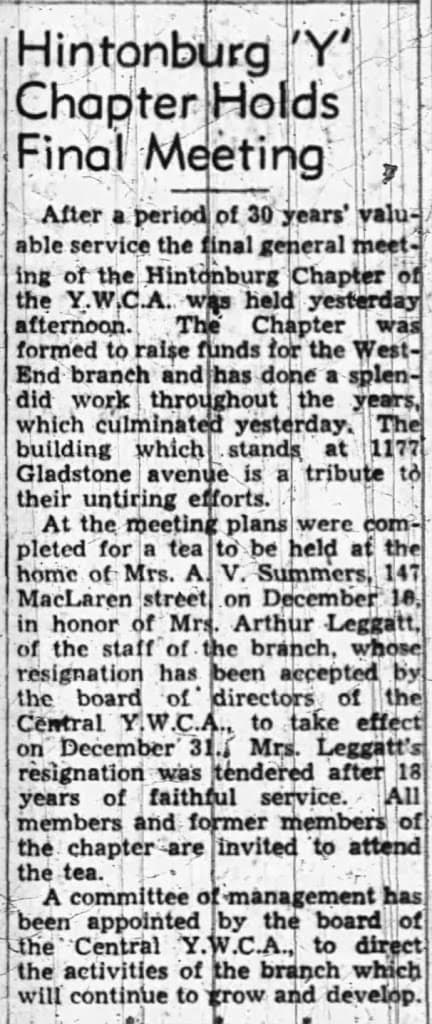 ](http://ottawastart.com/wp-content/uploads/2014/03/02.-1941-12-02-Hintonburg-YWCA-Page-9.jpg)
_ The Hintonburg Chapter of the YWCA folded shortly following the construction and establishment of the building at 1177 Gladstone. Administration of the West End YWCA was taken on by the Central Branch. Source: Ottawa Journal , December 2, 1941. _
Whether it was the Depression or the demands of wartime rationing and materials management, most Ottawa families found themselves needing to share and share alike to get by and maintain a certain sense of normality. To that end, the West End 'Y' offered up a number of programs. One interesting one was a "Remake Centre", whereby housewives could bring their own or their children's older, worn, or ill-fitting clothing and remake them into something new with the help of instructors (if needed).
[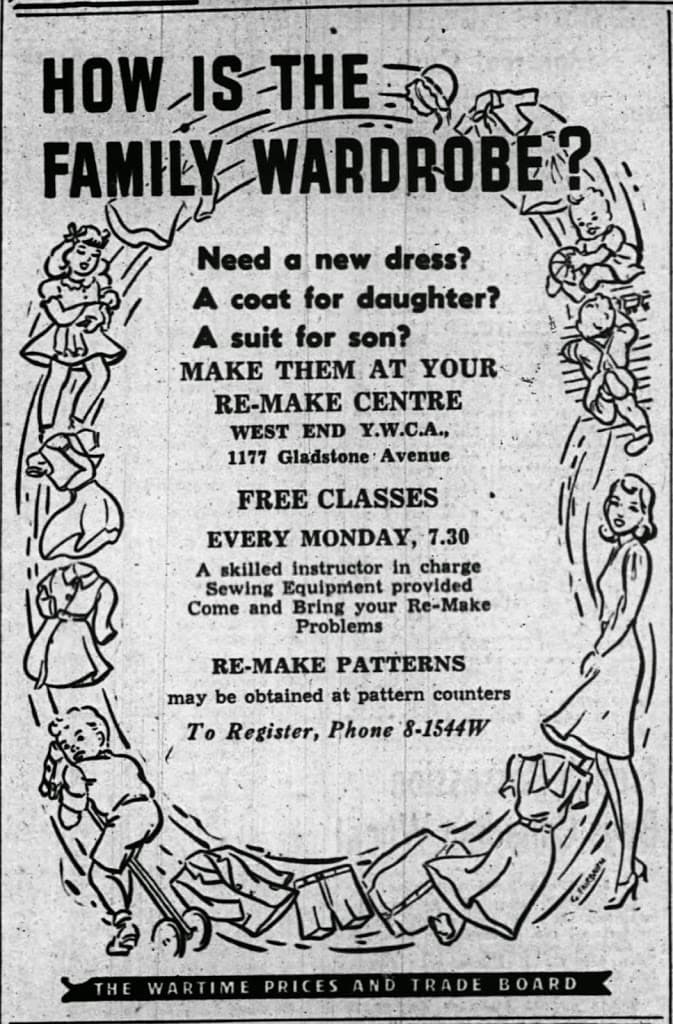 ](http://ottawastart.com/wp-content/uploads/2014/03/03.-1944-10-12-Wartime-Savings-Activity-Page-3.jpg)
_ During the Second World War, the Wartime Prices and Trade Board operated 're-make' classes at the West End Y for the women back on the homefront to cope with the shortages of both money and material. Source: Ottawa Journal, October 12, 1944. _
As the War was an all-hands-on-deck sort of venture across Canada, a large number of women were working outside the home - if even on a limited part-time basis. If they weren't lucky enough to have other arrangements for their non-infant children too young for public school, the YWCA also began to run a Nursery School in 1943.
[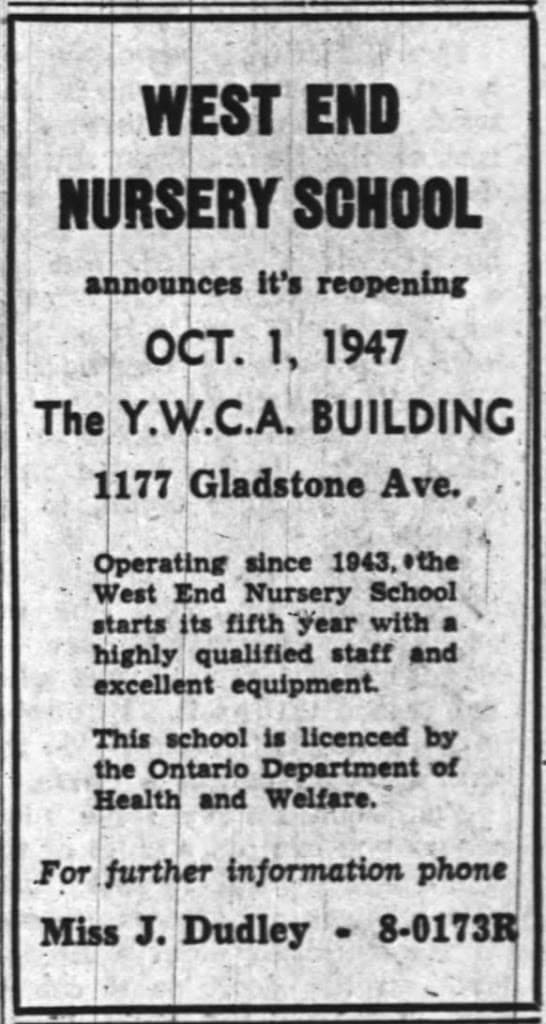 ](http://ottawastart.com/wp-content/uploads/2014/03/04.-1947-09-19-Nursery-School-Page-14.jpg)
_ A plethora of the community's needs were met by programming hosted by the West End YWCA. Source: Ottawa Journal, September 19, 1947. _
Of course, the Y wasn't limited to material support for families. It also hosted a number of social and sporting activities. For example, it was also home to social clubs for women and girls.
[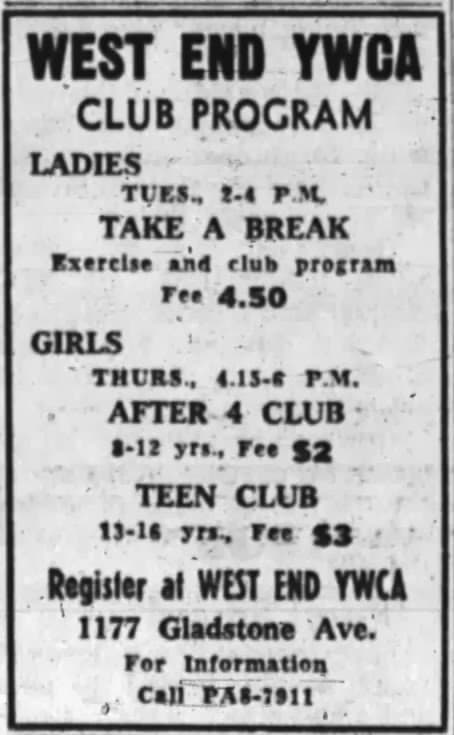 ](http://ottawastart.com/wp-content/uploads/2014/03/05.-1960-09-28-Girls-Club-Page-26.jpg)
_ Source: Ottawa Journal, September 28, 1960 _
During the mid-1960s, winter and spring golf lessons were also offered at both the central and west end locations.
[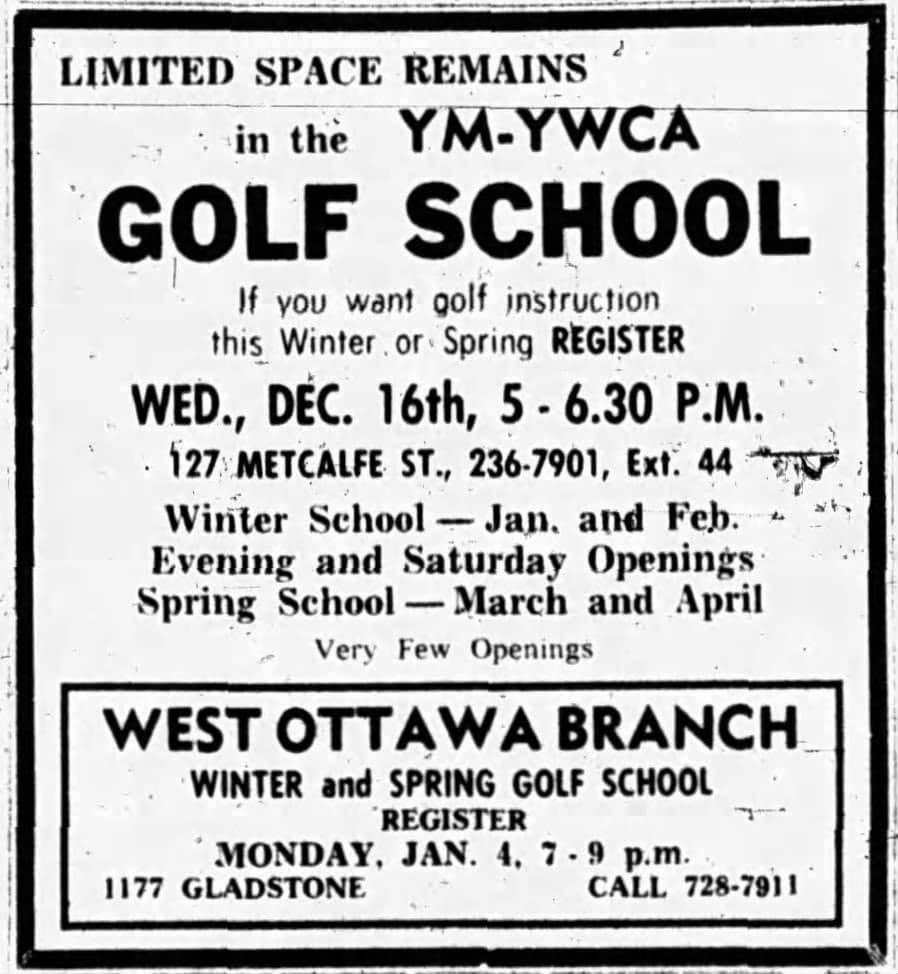 ](http://ottawastart.com/wp-content/uploads/2014/03/06.-1964-12-12-Winter-Golf-Lessons-Page-14.jpg)
_ Source: Ottawa Journal, December 12, 1964. _
It took nearly thirty years for the Hintonburg YWCA to raise the funds to have the building constructed and the space they constructed would be, in turn, used by them for approximately thirty years. As Ottawa grew up, so too did the local YM-YWCA organization (figuratively and literally).
[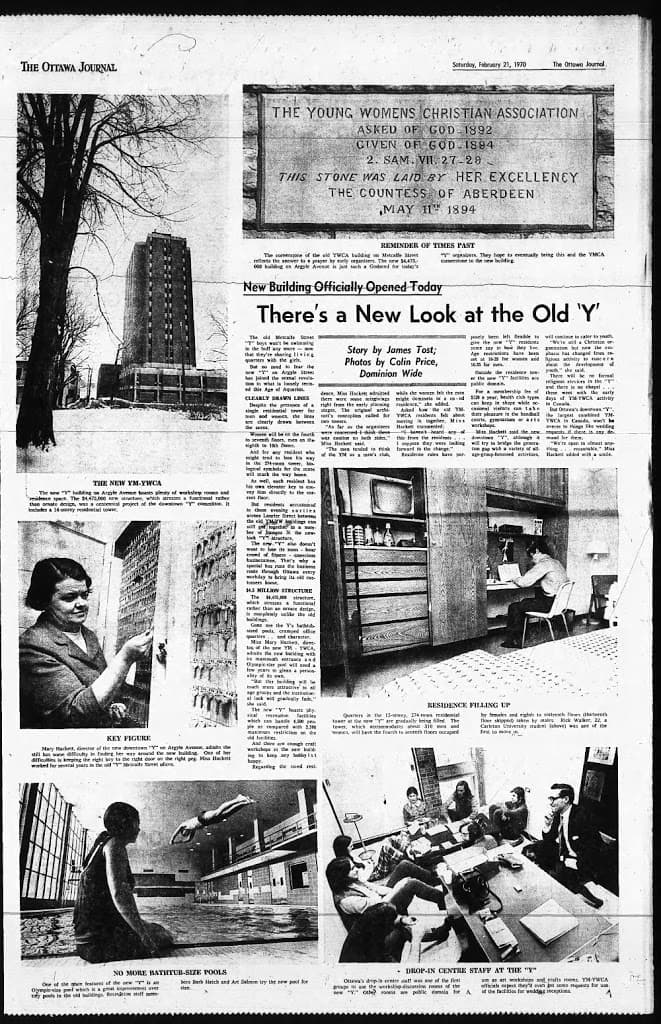 ](http://ottawastart.com/wp-content/uploads/2014/03/07.-1970-02-21-New-Building-Page-17-Scale-Down.jpg)
_ The new combined YM-YWCA at Argyle & O'Connor officially opened in February 1970 and it appears that most of the central-area programming was transferred there. Recall, of course, that the Hintonburg Y's management was folded into Central in 1941. Source: Ottawa Journal, February 21, 1970. (Click for full size.) _
During the Winter of 1970, the central-area Ys were combined into their new complex at O'Connor and Argyle. At the time it was opened, it was the largest combined YM-YWCA complex in the country. During the interim period, between 1967 and 1969, the West End YWCA was put to a number of uses, including local Quaker meetings. By 1969, however, the Knights of Columbus had moved in, beginning their own operations and fulfilling their own community service mandate. Including regular bean dinners!
_ – Original photos & text by Christopher Ryan.
(See more on our blog from Christopher…) _ **
** **
**
** See also: ** Ottawa Sports & Recreation Guide
If you liked this post, you should ** subscribe to etcetera , ** our free email newsletter. Featuring cool Ottawa events, interesting local news and contests and giveaways. Thanks!