Cheers to the festival of the year (GIVEAWAY)
** UPDATE: ** We have a winner!! Congratulations to Veronique, you've won two General Admission passes for Friday Nov. 4th! I will let them know, so you can simply pick the tickets up at Will Call at the event on Friday. Enjoy stomping those grapes girl!
---
For those of you who wish your weekends could once and a while look like a Bachelor Nation cocktail party – face dolled up with the latest makeup trends, dressed to the nines in a designer gown, hair blown out and extensions in, then the Wine and Food Festival is definitely for you. If that's not exactly your vibe, I get it – changing into my pyjamas the instant I get home and watching Divergent can definitely be my jam. But we know you get out once and a while, so you should put this event at the top of your list because there are actually some really cool things going on this. From Nov. 4 to 6 they're bringing sophistication back for this ultimate party.

Every year this event seems to get bigger and better. This time around, each day will kick off with the Stomping of the Grapes, where you can literally take off your shoes, step in, and start stomping (daily from 1 p.m.-3 p.m.) Then you can head on over to the Tasting Floor and sample some of the best regional, national and international craft Beers, spirits, and Foods Friday, Saturday and/or Sunday. New this year are the VIP All Access Passes, a masterclass in artisanal cocktail, mocktails, and curated cool late night food, and the debut of "Prep School", which is a series of engaging seminars available to pass holders.
I saved the best for last:
A. cheese. _ vault. _ That's right – 5500 sq ft where you will sample cheese, some that have actually never been sampled before. The idea is to consume as much cheese as you possibly can, and I think that most people can go for just over a pound…kidding.
And as a side note, but one of the main reasons to go anywhere – the contest. Enter for a chance to win tickets to the Barbados Food & Wine and Rum Festival as well as airfare and five nights at the Oceanfront Slice of Life Hilton. ** TICKETS ** There are a variety of options, but you can't go wrong with the $50 VIP Tasting Floor Ticket available for Friday Nov. 4 or the new $75 VVV-VIP All Access Pass .
This year your ticket includes even more than past years, like:
 * 
ISO-Certified Complimentary Tasting Glass

 * 
[
 Prep School
](http://ottawawineandfoodfestival.com/foodies/prep-school/)
– learn from the pro's on how to prepare, pair, and present with your choices of 15 varying free seminars with free samples

 * 
[
 Local Food Emporium
](http://ottawawineandfoodfestival.com/foodies/local-food-emporium/)
– purchase specialty foods handmade by artisan producers who will be on site

 * 
Stomping of the Grapes

 * 
[
 A chance to win a little slice of paradise with a trip to the Barbados
](http://ottawawineandfoodfestival.com/about-the-festival/hit-the-beach/)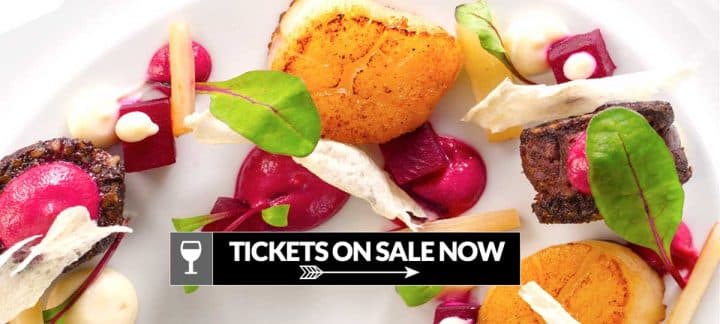 ** GIVEAWAY ** I've got a pair of tickets just for you! Up for grabs is ** a pair of general admission tickets to the Friday Nov. 4 edition of the show. ** These tickets are for Friday access only. ** TO ENTER **
 1. 
<del>
 Follow Ottawa Wine & Food Festival's Instagram Page
 [
  (@ottawawinefood)
 ](https://www.instagram.com/ottawawinefood/)
</del>

 2. 
<del>
 Follow my Instagram Page (@
 [
  holliegracejames
 ](https://www.instagram.com/holliegracejames/)
 )
</del>

 3. 
<del>
 Post a comment below telling me what intrigues you most about the show
</del>

** Contest closes this Friday Oct. 28 at 6:00pm ** and I'll announce the winner shortly after. You're going to have a blast next Friday night. Good luck!