CHEERS! Covered Bridge wins gold at Canadian Brewing Awards
_ (This article originally appeared on our sister site, StittsvilleCentral.ca ) _ Time to raise a glass to ** John ** and ** Kathy vanDyk ** from ** Covered Bridge Brewing ** for their gold medal win at the ** Canadian Brewing Awards ** on the weekend.
The Stittsville craft brewery won a gold in the Wood and Barrel Aged Strong Beer category for "Two". It's a 11.5% bourbon barrel aged barley wine beer, released to celebrate their second anniversary in December.
We asked Kathy about the award and the beer, and she replied back by email:
_ "Every year, our plan is to release a strong, barrel-aged beer for our anniversary, to remind us how far we've come, and giving us something to celebrate with our customers. Something that is collectable and cellar-able. Barley wines tend to get better with age, usually around the one-year mark. When we release Three in Dec, we'll put out more Two, and a bit of One, and so on." _
_ "A few weeks ago, John got a call from the Canadian Brewing Awards and Conference, asking if we were planning on attending and requesting some Two for the gala. They don't announce the winners in advance, so we hadn't been planning on attending given the conference location. But the specific request made us suspicious, and when we started asking around, we were told we had likely won something." _
_ "So out we came. The two day conference has been great. We've been able to talk to many suppliers (hops, a yeast lab in Niagara called Escarpment Labs) and attend great sessions. My mind has been racing with ideas, planning an all-Ontario brew to be release next month and throughout the summer, and we'll be working with local producers for a series of beers for Ottawa 2017, that will be ready for when the Canadian Brewing Awards and Conference start, since they're being held in Ottawa next year." _
_ "All-in-all, we're quite excited, but all very humbled by this. We're really just two normal, everyday people who love the Stittsville-Carp area, who decided to take a bit of a risk, one of us leaving the comfort of the public service for a more exciting (stressful, fun, tiring, social, bruise and other small injury-prone career). We hope to be around for a long time." _
[caption id="attachment_32415" align="aligncenter" width="435"]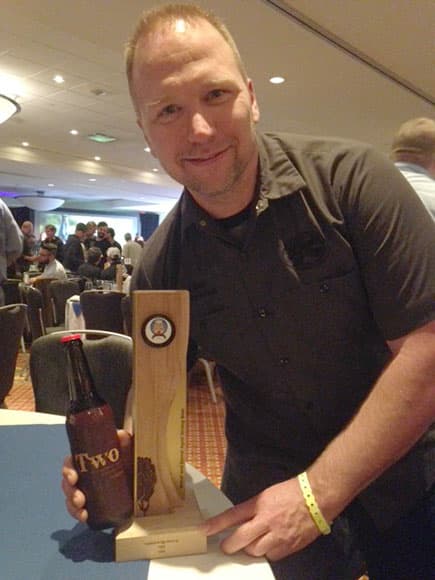 Covered Bridge Brewing owner John vanDyk holding a glass of the award-winning Two, alongside the gold medal trophy.[/caption]