Champions lock up playoffs spot
_ (Press release) _ ** Ottawa, ON ** ** – ** For the first time in team history, the Ottawa Champions have qualified for the Can-Am League playoffs.
https://twitter.com/davidgourlay/status/769349119450157057
https://twitter.com/davidgourlay/status/769352717877805056
Sebastien Boucher broke the league's single-season walk record, as they clinched a playoff spot with a 4-1 win in game two of their series against the Quebec Capitales.
"I'm very proud of the ballclub, this is a huge moment," said an elated Hal Lanier said after the game. Not only for the team, but for the organization too."
Lanier took a break from celebrating with the team to address media. He also congratulated Boucher on the walk record, who reached on a base on balls for the 80th time this year in the top of the seventh.
[caption id="attachment_49454" align="aligncenter" width="960"]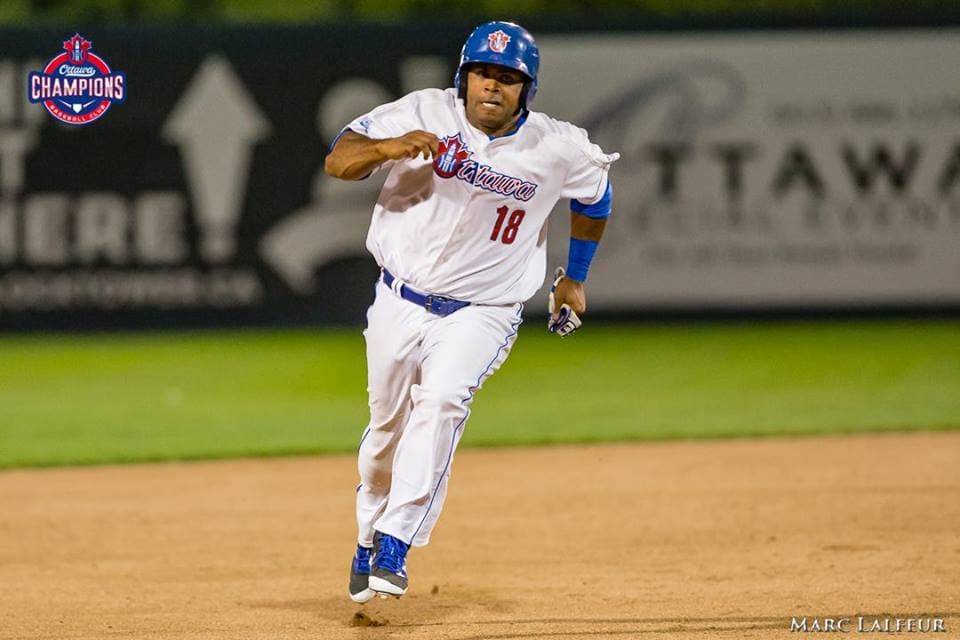 Photo: Sebastian Boucher during Friday's Ottawa Champions game (Via Ottawa Champions)[/caption]
Ottawa began the game on a high note, scoring their first two runs early in the game. It began in the second, when the Champions would open things up with two extra base hits. First Danny Grauer doubled, then Adron Chambers followed it up with a two-bagger of his own.
With the score at 2-0, the Capitales rallied to score one. But then Matt Helms silenced his former fans. The former Capitale sent a solo home run over the right field fence, giving the Champions a 3-1 lead.
They didn't look back from there, and took away a 4-1 decision over Quebec.
Daniel Cordero (W, 10-3) showed why he was an all-star selection with his performance tonight. In seven complete innings, he allowed three hits and just one run while not allowing any walks.
Sam Gleason (L, 1-2) started his first game in a Capitales uniform, and took the loss. He's had a decision in all three of his appearances on the mound, making two stops as a reliever.
Ottawa looks to clinch the series over the Capitales tomorrow night, with a 6:05 p.m. start time in Quebec City.