CFRA taps national syndicated show for Sunday lineup
_ (Via Bell Media) _ ** OTTAWA (August 18, 2016) ** – Bell Media Radio announced today the expansion of national news and current affairs program ** V ** ** IEWPOINTS WITH TODD VAN DER HEYDEN ** into the Ottawa market. Beginning ** Sunday, August 21st at 7 p.m. ** , listeners across the Ottawa region can turn to 580 CFRA News Talk Radio to tune into the three-hour-weekly, nationally syndicated weekend program featuring compelling guests and irreverent conversation, hosted by veteran CTV journalist and CTV News Channel Anchor, Todd van der Heyden.
[caption id="attachment_48858" align="alignright" width="248"]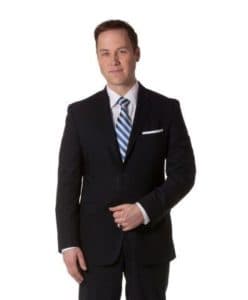 Todd van der Heyden (Handout)[/caption]
Covering top headlines from politics to pop culture, and entertainment to current affairs, listeners can turn to ** V ** ** IEWPOINTS WITH TODD VAN DER HEYDEN ** for an insightful take on the stories that matter to Canadians. Also featuring the latest "watercooler stories", interviews with best-selling authors and documentary filmmakers, along with a loving dose of geek culture, Van der Heyden welcomes a dynamic roster of guests each week, including top newsmakers and celebrities from across Canada and around the world.
"Todd's penchant for delivering breaking news and accomplished storytelling make him the perfect chaperone to guide a timely, topical, and engaging conversation with Ottawa listeners," said Peter Angione, Director News and Information Programming, Bell Media Ottawa. "We're delighted to add ** V ** ** IEWPOINTS WITH TODD VAN DER HEYDEN ** to our weekly programing lineup, and to broaden the national reach of this terrific program to include listeners from across the nation's capital."
"I'm excited to expand our radio broadcast into Ottawa on 580 CFRA – the legendary station I listened to during part of my childhood living in Ottawa, and later while attending Carleton University," said van der Heyden. "The three-hour radio format allows me and my guests to delve deeper into stories, engaging in a longer conversation on the topics that matter."
Launched on Montreal's CJAD 800 in October 2011, ** V ** ** IEWPOINTS WITH TODD VAN DER HEYDEN ** has since broadened its content and expanded its footprint, now reaching audiences across five markets through national syndication on Bell Media Radio News/Talk stations across Canada, including:
Following its weekend broadcasts, a podcast of ** V ** ** IEWPOINTS WITH TODD VAN DER HEYDEN ** is available every Monday.
With 20 years of experience in broadcasting including 17 years with CTV News, van der Heyden first joined CTV Montreal in January 2000 as a daily reporter. In 2003 he was assigned the investigative segment, ON YOUR SIDE, which he hosted for five years until his promotion to Co-Anchor of CTV Montreal's flagship weekday 6 p.m. and noon newscasts. Throughout his career, van der Heyden has won several industry awards for his reporting, including three RTNDA awards and a CAB award.