Carleton University study reveals mixed picture for Canadian media concentration
_ (press release) _ A new study on telecommunications, Internet and media concentration across Canada directed by Carleton University's Dwayne Winseck, professor at the School of Journalism and Communication , reveals a mixed picture: high media concentration in many core areas of the Internet, and declining but still high levels of concentration in mobile wireless services. It also shows that Canadians obtain online news from a diverse range of Internet sources.
This is the second report in an annual series by the Canadian Media Concentration Research Project, which is funded by the Social Sciences and Humanities Research Council (SSHRC). The report reviews current developments and long-term trends in Canada's telecom, Internet and media industries. It builds on the first report in the series, and addresses the question: _ Have telecom-Internet and media markets become more or less concentrated over time? _ Studying the media industry is crucial because with so much upheaval, independent research is needed to guide important policy decisions that will shape the communications and media ecology Canadians will experience in the future.
The report examines competition and concentration trends from 1984 until 2015 for more than a dozen sectors of the Canadian media, Internet and telecoms industries.
The study divides markets into three categories: competitive, moderately concentrated or highly concentrated. ** The results are summarized below: ** [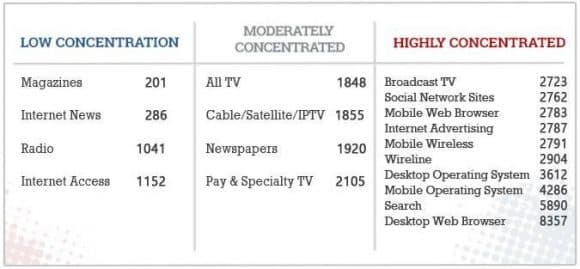 ](http://newsroom.carleton.ca/2016/11/22/carleton-professor-directs-new-study-trends-media-concentration-across-canada/media-concentration/) Efforts over the past several years to promote greater competition in the mobile wireless market have borne modest fruit. Notably, the share of the big three — Rogers, Telus and Bell – has fallen from 96 per cent to 91 per cent since 2008, while new entrants Wind and Videotron's share of the market ticked upwards to four per cent in 2015.
The least concentrated mobile wireless market in Canada is in Quebec, where Videotron had nearly 10.5 per cent market share by revenue or 13 per cent by subscribers at the end of 2015. People in Manitoba and Saskatchewan, however, are the best served in terms of affordable wireless plans with unlimited voice and data, even though the local incumbents' share of the market in those provinces is high relative to Canadian standards.
Concentration levels have increased in several media sectors since 2010. Contrary to popular belief, core elements of the Internet – advertising, search engines, social media sites, browsers, smartphone operating systems and desktop operating systems – are remarkably concentrated.
Internet advertising has become increasingly concentrated. In 2009, the top 10 Internet companies took 77 per cent of all Internet and mobile advertising revenue; by 2015, that number had risen to 86 per cent. Combined, Google and Facebook control an estimated two-thirds of Internet advertising revenue.
Facebook's estimated revenue alone in Canada is more than two-and-a-half times the entire newspaper industry's online and mobile advertising revenue. In 2015, Google, Facebook and Netflix ranked as the sixth, 14
th
and 15
th
largest Canadian media firms respectively.
Newspaper concentration jumped in the last year due to Postmedia's take-over of many daily and community newspapers from Quebecor. Traditional newspapers continue to flounder, although Canadians get their news from a wide variety of Internet news sources, both old (CBC, Postmedia, Toronto Star, CTV) and new (Huffington Post, Buzzfeed), domestic and foreign (BBC, Yahoo!, ABC, the _ Guardian _ , _ New York Times _ ).
There has been an increased concentration in the television marketplace since 2010. The big five television groups – Bell, Shaw (Corus), CBC, Rogers and Quebecor – collectively owned 217 television services that accounted for over 86.2 per cent of the total television market by revenue in 2015.
It is estimated that Netflix accounts for roughly six per cent of the $7.6-billion television marketplace in Canada.