Canadian icon K.D. Lang announced as the NAC's 2017 Gala artist
_ (Via National Arts Centre) _ ** February 23, 2017 – OTTAWA (Canada) – ** The NAC is pleased to announce Canadian superstar k.d. lang as the gala artist for the 21
st
annual NAC Gala in support of the _ National Youth and Education Trust _ .
[caption id="attachment_62701" align="alignright" width="150"]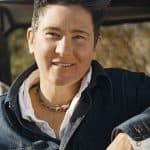 K.D. Lang (kdlang.com)[/caption]
On Saturday September 16, 2017, k.d. lang—the Grammy- and Juno-Award winning singer/songwriter and her band, will take to the Southam hall stage, in a performance that celebrates the 25
th
anniversary of her groundbreaking album _ Ingénue. _ The gala concert will begin with a spectacular welcome from Music Director Alexander Shelley and the National Arts Centre Orchestra.  After the concert, guests are encouraged to stay and party the night away in style, at the not to be missed music event of the season! ** ** Tickets for the 21
s
Annual Gala will go on sale to the general public Friday, March 3, 2017 at 10 a.m.
This glamorous fundraising event benefits the _ National Youth and Education _ _ Trust _ by providing much needed resources for the National Arts Centre's youth and education programming. The funds raised support music education programs all across the country, as well as  masterclasses, online activities and youth programming for dance and theatre. The _ National Youth and Education Trust _ also donates tickets to children who might otherwise be unable to afford to attend performances at the NAC.
Please join us on Saturday September 16, 2017 for the 21
st
Annual National Arts Centre Gala. The NAC Gala – benefitting the _ National Youth and Education Trust _ which invests in young Canadians through the performing arts. ** ** ** TIMES AND TICKETS ** The NAC Gala takes place in the National Arts Centre's Southam Hall on Saturday, September 16, 2017. The evening begins at 6:00 p.m. with a concert beginning at 8:00 p.m. All tickets go on sale to the general public on March 3, 2017 at 10 a.m.  Tickets are available through the NAC website and in person at the NAC Box Office .  All funds raised will benefit the _ National Youth and Education Trust _ . ** SUPPORTERS ** The NAC Gala is made possible by the tireless dedication of its organizing committee, led by Honorary Chair Sophie Grégoire Trudeau and Chair Gary Zed. We wish to thank Honorary Patrons Bonnie and John Buhler, for their generous support, as well as The Asper Foundation, Arel Capital, Mark Motors Audi,Trinity Development, _ The Ottawa Citizen _ and _ LeDroit _ . Their investment through the Trust, as well as individual and corporate donors from all across the country, help the NAC nurture and develop the creativity of young people in all regions across Canada and support the educators and artists who challenge and encourage them. _ ** Correction: ** _ _ ** An earlier version, using information provided by the NAC, said the evening begins at 5:30 p.m. and the concert at 6:30 p.m. We are happy to clarify the evening begins at 6 p.m. and the concert at 8 p.m. ** _