Canada Day may be over, but Ottawa 2017 events continue
Although Canada Day celebrations are over, events will still be taking place across the city over the next six months to celebrate Canada's 150th birthday.
From July 16 to Sept. 24, the public is invited to attend Kontinuum in the Lyon station LRT tunnel.
"Kontinuum is our underground multimedia production," said Guy Laflamme, executive director of Ottawa 2017. "It's going to be a world first and we anticipate hundreds of thousands of people."
The public will have a chance to walk the 500 metres of the LRT station and experience a multi media production. "This is a science fiction type of experience," said Laflamme.
Tickets are free, however only a limited amount will be given out at the door. If you want to guarantee a spot, you can order a free ticket on the Ottawa 2017 website – 55,000 were reserved as of Tuesday.
KONTINUUM - An underground journey through time from Ottawa 2017 on Vimeo .
From July 27 to 30 La Machine , an urban theatre production using large mechanical creatures, will soar through the city for four days, 24 hours a day.
It features two characters – Long Ma, part dragon and part horse (12 metres tall and weighing 45 tons) and La Princess, which can reach up to 13 metres in height. [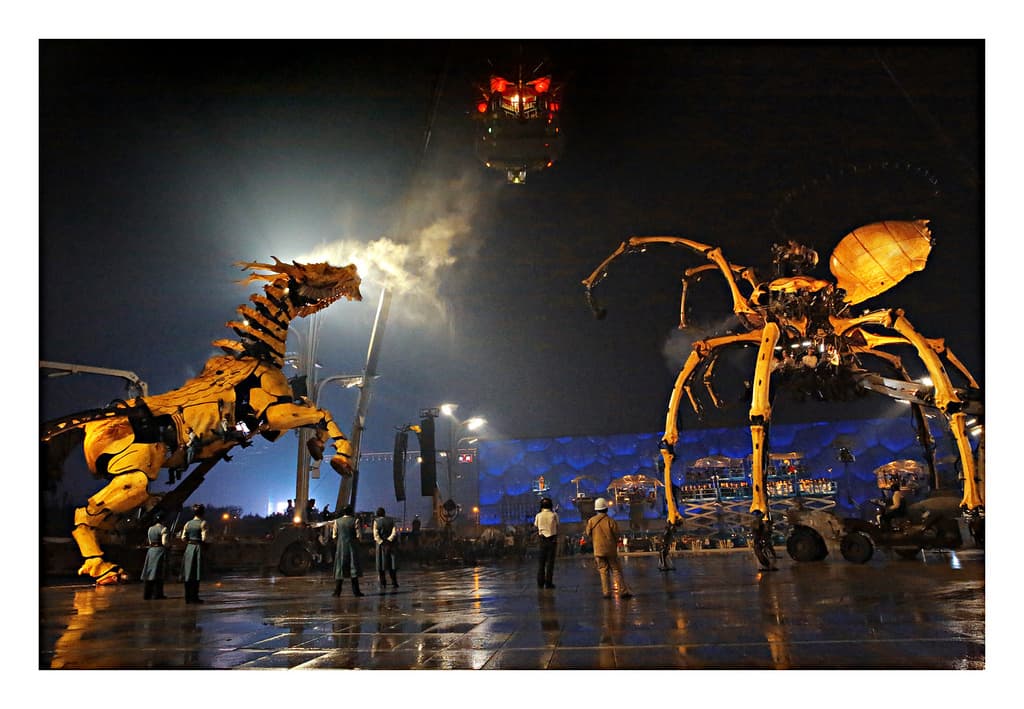 ](https://www.flickr.com/photos/138710500@N02/27276385282/in/photolist-HGXcPP-HGXabx-HGXc6z-HhAtsJ-HGXb9V-HhAtFj-HGXcNr-HGXcR2-HyjB3S-HGXaZ6-HhAu5L) "The giant dragon and spider will invade the downtown core from July 27 to July 30," said Laflamme. La Machine was started in the 1999 in Nantes, France, and has since traveled across the world.
"It's a first not only in Canada (but also) in North America," said Laflamme. "It is the first time La Machine is coming on this side of the Atlantic and that's going to be a massive production."
The exact locations of where La Machine will be held will be announced in the next few weeks.
On top of continuing events for the year, Ottawa 2017 is also trying to get some to return in the future – such as the Red Bull Global Rallycross. "This allows us to extend the impact of Ottawa 2017 to make sure it's not just a flash in the pan," Laflamme said in a previous interview. _ ** Our picks: Other events coming up ** _
 * 
_
 [
  Ottawa welcomes the world
 ](http://ottawastart.com/events/ottawa-welcomes-the-world/)
 - Tuesday, March 21 - Friday, December 1
_

 * 
_
 [
  Sky lounge
 ](http://ottawastart.com/events/sky-lounge/)
 - Friday, July 7 - Saturday, July 22
_

 * 
_
 [
  Kontinuum
 ](http://ottawastart.com/events/kontinuum/)
 - Sunday, July 16 - Thursday, September 14
_

 * 
_
 [
  La Machine
 ](http://ottawastart.com/events/la-machine/)
 - Thursday, July 27 - Sunday, July 30
_

 * 
_
 [
  Guns N' Roses -- YOWttawa
 ](http://ottawastart.com/events/guns-n-roses-yowttawa/)
 - Monday, August 21
_

 * 
_
 [
  World's largest scavenger hunt
 ](http://ottawastart.com/events/worlds-largest-scavenger-hunt/)
 - Sunday, September 10
_

 * 
_
 [
  Magnificence of Chaudière Falls
 ](http://ottawastart.com/events/magnificence-of-chaudiere-falls/)
 - Sunday, October 1
_

 * 
_
 [
  2017 Canadian video game awards
 ](http://ottawastart.com/events/2017-canadian-video-game-awards/)
 - Wednesday, November 1
_

_ Full schedule on ottawa2017.ca . _ _ With files from Devyn Barrie _