Can we make Ottawa's suburbs transit-friendly?
Amanda Bernardo lives in Barrhaven and often rides the bus to work downtown. She says it was smart to integrate the Transitway in the heart of the community, although there are some weak spots in the service. (Photo/Devyn Barrie)
(This is the third and final of a three-part look at transit-oriented development in Ottawa and how it can change the way we live and get around in the near future. See the full series here and subscribe to our newsletter.)
Ottawa's urban centre already has the required density and culture in place to make it deeply transit-supportive. As city planners turn their attention to suburban neighbourhoods where LRT will soon reach, like Westboro and Orleans, what happens with communities that are stuck with buses for the foreseeable future — like Stittsville, Kanata and Barrhaven?
These communities, with their expanses of low-density — mainly single-detached — housing, have not typically been perceived as areas with a high need for transit. Ottawa was designed and built throughout the last century to be car-dependent, and there is no better place to witness this fact than in the outer suburbs.
From the long roads that typically don't accommodate cyclists or pedestrians, to the separation of sparse residential areas from commercial and retail districts, the entire set-up for Ottawa's suburbs is designed with cars in mind, and most people need one to get around for almost anything, from going to work to running out for groceries.
Thus, most people who live there tend to drive. According to the 2013 transportation master plan, 56 per cent of morning peak-period trips in the outer suburbs (outside the greenbelt) were done as a car driver, versus 49 per cent as a car driver for those living in the inner suburbs. That figure was 30 per cent in the inner urban area, where most people instead walked or took transit.
Most cities, including Ottawa, have come to the conclusion that having low density levels and car-centric development is too expensive and environmentally unsustainable to continue. It has led to crushing traffic congestion, tremendous costs in maintaining and expanding roads, plus negative environmental impacts in terms of losing greenland to development and increasing vehicle emissions, the city's website says. It's resulted in a city that's spread far and wide — an effect worsened by the fact Ottawa is an amalgamation of several former municipalities. At 2,796 square kilometres, Ottawa is very large geographically — bigger than Calgary, Edmonton, Toronto, Vancouver and Montreal combined. That makes delivering city services very expensive, while also making things more inconvenient for people as everything is placed further apart.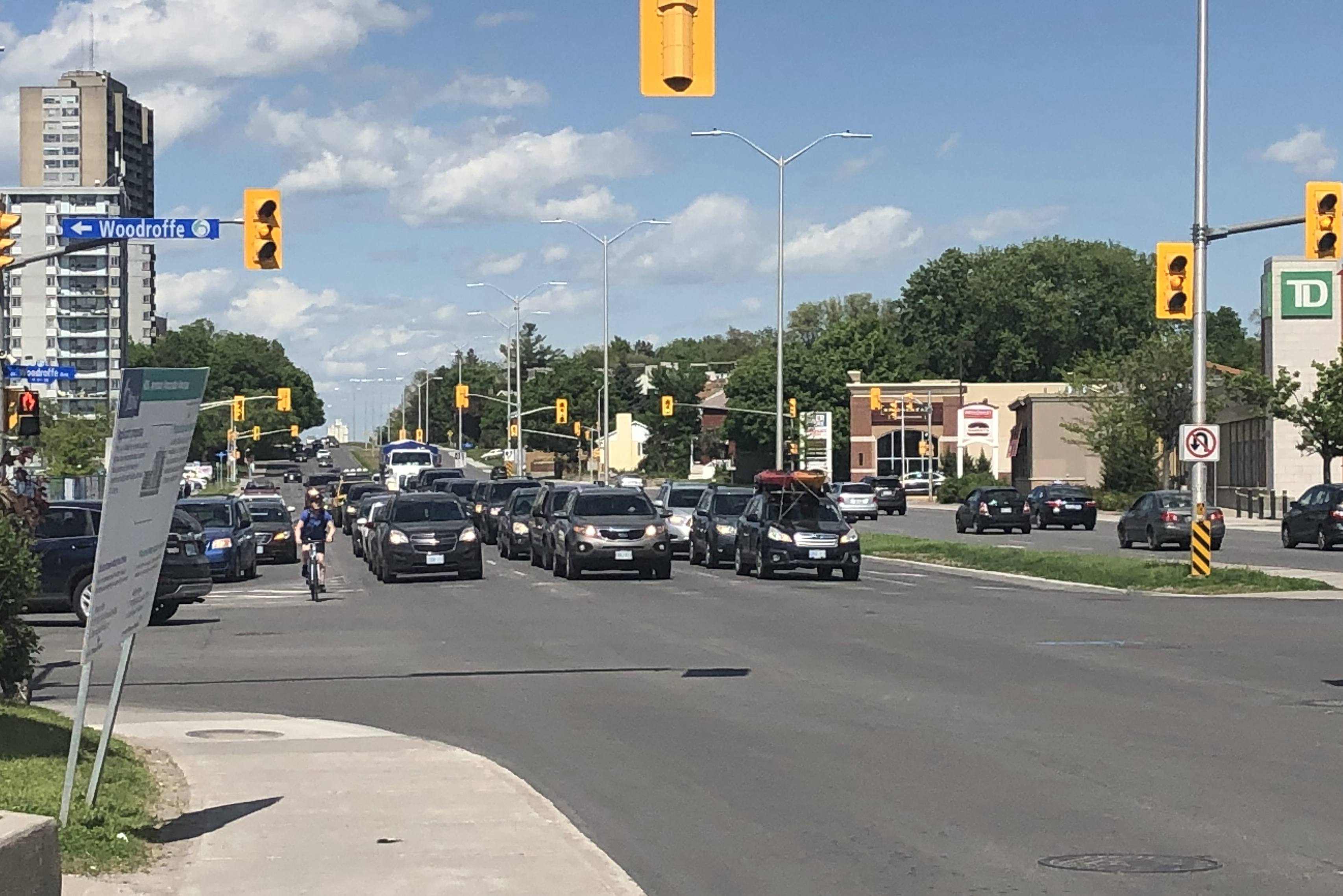 The City of Ottawa is working to reduce dependence on automobiles, due to the congestion and road maintenance costs associated with it. (Photo/Devyn Barrie)
The solution is intensifying, or increasing the concentration of people and employment opportunities in a given area of land. The city has been promoting more of it for years, as part of a long-term vision to create a different landscape for Ottawa.
A smattering of city policies aim for greater intensification, starting with the official plan. Other planning documents, like specific community design plans, also set out density targets with the goal of achieving more sustainable development. Stepping up the density game means it can become less necessary for people to use their cars, according to a city backgrounder on intensification. Reaching the city's goal of a 50 per cent non-car-driver mode share by 2031 may depend on it.
While the city is certainly looking for denser development in the outer suburbs, getting there will take time. Creating transit-oriented developments that can reduce car usage is not likely to be viable in those areas until after they are reached by LRT, said Alain Miguelez, the City of Ottawa's manager of policy planning.
Take Stittsville, for example. At year-end 2018, the city pegged its population at over 37,000. Current growth projections say it will reach more than 70,000 residents by 2031. The 2013 transportation master plan identified Stittsville, along with Kanata, as a major growth area for travel demand. But orienting it towards transit and away from the car will likely only become doable after 2031, when LRT is scheduled to be built out to Stittsville, Miguelez said.
"Then that becomes a viable proposition," he said.
When that happens, the train service will act as a catalyst to the kind of development that will in turn support it, he said. The question of what needs to come first — transit service, or transit-supportive development — depends on what kind of place you're talking about, Miguelez said.
"There are locations that are already attractive because they're good urban places to be and an upgrade in transit service just makes them more attractive," he said. "On the other hand you've got locations that are not yet mature enough as urban places, where the impetus really will be transit service."
Under-developed places, like the outer suburbs, will need the train to simulate their intensification and "greater urbanity," he said. This is what the city is doing right now with planning for the neighbourhoods around Confederation Line stations.
Transit planning has always relied on density to some degree to provide quality service. The Ontario Ministry of Transportation's guidelines say higher residential and employment densities in a particular area translates into more passengers within walking distance, which makes higher-quality service more cost-effective.
It's also beneficial to seek denser, more mixed-use environments because they put everything people need nearby — like housing, workplaces and shopping — which reduces travel distances and makes it easier to run transit lines. If residential areas are dense, but not located near other places where people want to go, it makes service harder to provide. Thus, it's typically preferred to have both the residential density and a mix of uses in a local area to improve the viability of transit service.
The MTO's suggested minimum density targets for an area to have frequent bus service — one that runs every 10–15 minutes — is 37 units per hectare, or 80 residents and jobs combined per hectare, within a 5–10 minute walk of transit. A less-frequent bus service (every 30 minutes or so) would call for density to be at least 22 units per hectare or 50 residents and jobs combined. For a dedicated busway, or for an LRT system, it's 72 units per hectare or 160 residents and jobs combined per hectare.
Ottawa's suburbs, with low levels of density, have generally not been designed to have transit at their core. Barrhaven, however, is an example of one that was, to some extent. In 2011, the Transitway was extended into its central shopping district and, with it, new stations sprouted up and brought the TOD concept to this far-flung suburb. On top of that, the construction of a short stretch of median bus lanes on Barrhaven's Chapman Mills Drive in 2014 brought a new type of transit infrastructure to Ottawa that could be used elsewhere.
The Barrhaven Transitway uses a separate roadway and runs from the Nepean Sportsplex near West Hunt Club Road, into the community through the Via Rail station and then travels parallel with the rails before breaking off to head south, to Barrhaven Centre.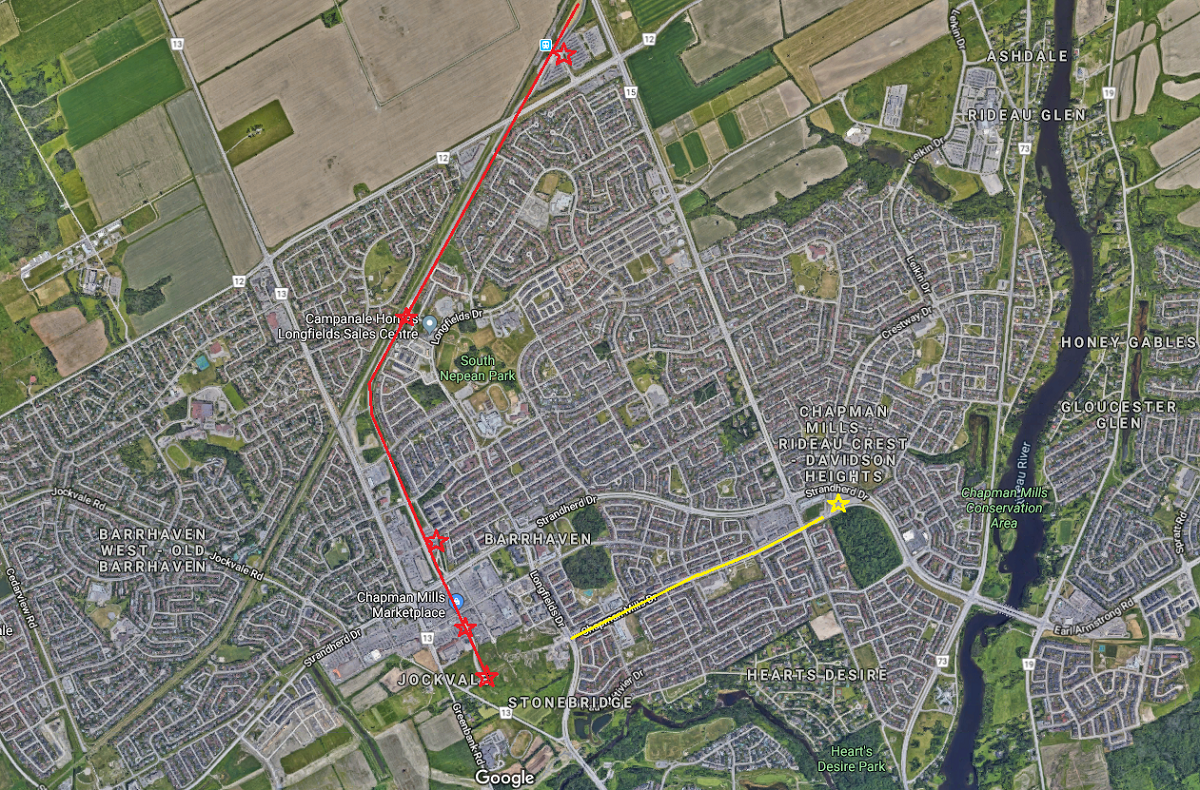 The Barrhaven Transitway is shown in red, while another busway in the Chapman Mills area is shown in yellow. (Graphic/Devyn Barrie)
Amanda Bernardo, a senior public servant who lives in Barrhaven and works downtown, is a regular user of OC Transpo for her commute. She moved into the community about two years ago and uses the bus to avoid the hassle and expense of parking downtown, she said. Although it's not perfect, she said there is good value for the community in having a dedicated Transitway at its heart.
"I think it was smart that they did that," Bernardo said. "I think that same foresight and focus and design needs to be thought of as they continue to build houses (and expand the community)."
While it's good to have the rapid transit facilities, there are some weak spots, she said. For one, the Transitway is disconnected for a two-kilometre stretch between the Nepean Sportsplex and Baseline Station at Algonquin College, a segment where it travels in mixed traffic via Woodroffe Avenue. Bernardo said Woodroffe has a lot of congestion particularly during rush hour and that slows the buses down significantly.
Another weak spot has to do with the reliability of service. While she isn't sure if it's because of LRT construction, Bernardo said buses have become less reliable of late and that increases her commute time. She usually drives for a few minutes from her house off Cambrian Road to Strandhard park and ride where she can hop on a 95 — if she's able to find a parking spot. Also, the 95 has been known to show up already packed from the previous two stations, she said.
Last year, the connexion route 275 was added to run from Cambrian Road, through Barrhaven's Transitway and towards downtown. Because it makes a limited number of stops, it has been taking some pressure off the 95 route. Bernardo tried using that new route when a stop for it was added a short walk away from her house, but she said that bus was unreliable and she would often wait for 20 minutes on end wondering when it would show up. Although it requires some driving to get there, results are usually better for her at Strandherd as she typically only has to wait five or 10 minutes for a 95 there, she said.
Her experience highlights one aspect of transit in Ottawa's suburbs that may stand in the way of moving people out of their cars — people really like the park and rides. And they're so convenient to use, sometimes it beats walking to the bus.
Alain Miguelez, at the city, said it's a question on what to do with these suburban stations when LRT comes in.
"They are basically a station next to a parking lot, so there's no space for buildings there. There's very little urban fabric or built-up area next to the station" Miguelez said. The question comes down to whether you'd want to keep the surface parking or replace it with a neighbourhood where people can live next to the station and even go to their job in the same area.
Baseline Station is an example of that kind of terminus station, in the inner suburbs. It's adjacent to Algonquin College and some office buildings, but a lot of the surrounding land is a large parking lot and thus is underused for a transit-oriented neighbourhood. There was a plan for a TOD community to be built up around the station, with a tunnel prepared under the current station so buses would be able to run underground. But that plan was from the pre-LRT era and may need to be re-done, Miguelez said. That would only happen after the new official plan is created, he added. (The tunnel is currently earmarked for a future LRT station.)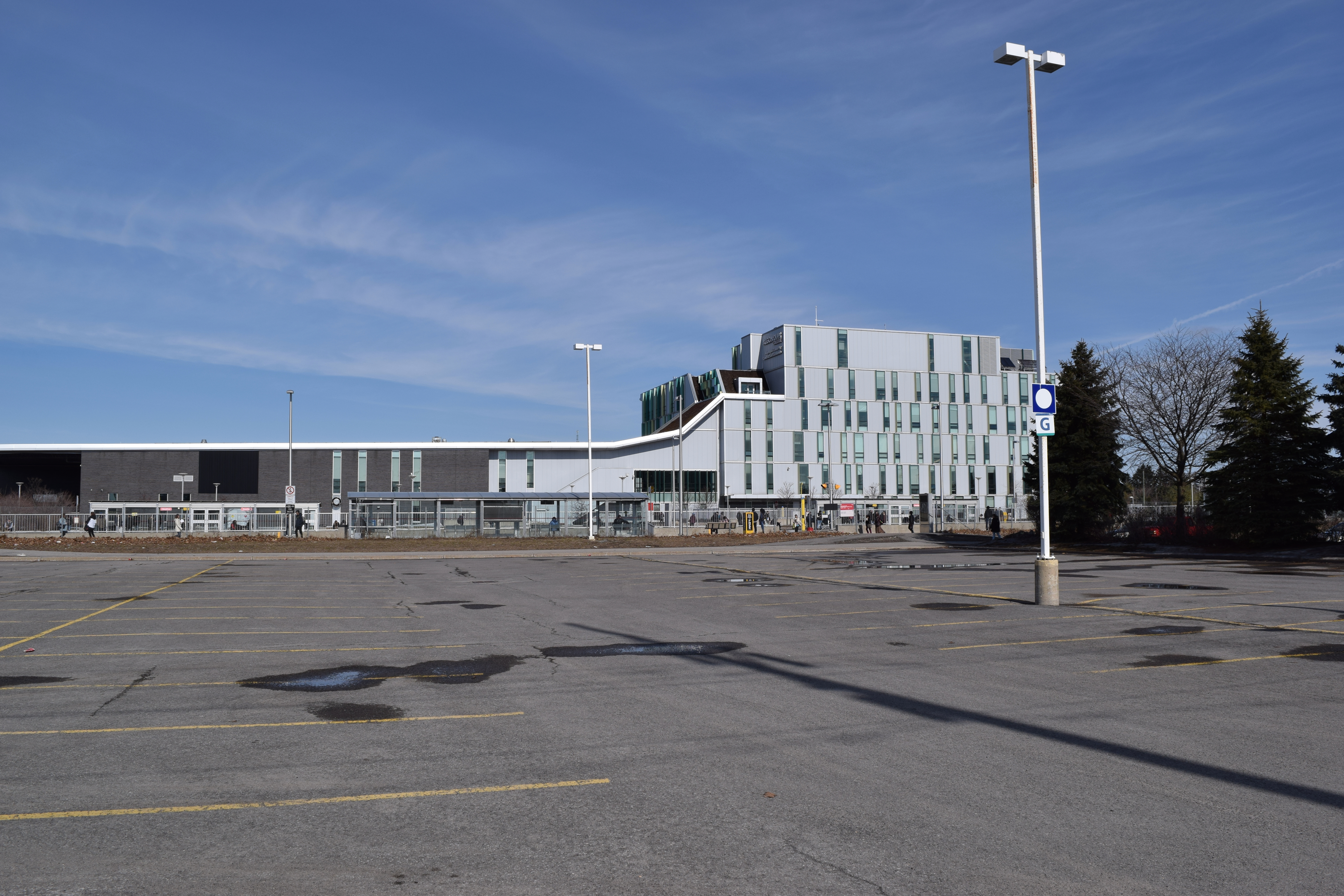 Above: Baseline Station abuts a large parking lot, often not the best choice of land use for a transit-supportive community. (Photo/Devyn Barrie)
Below: A view of Baseline Station from above.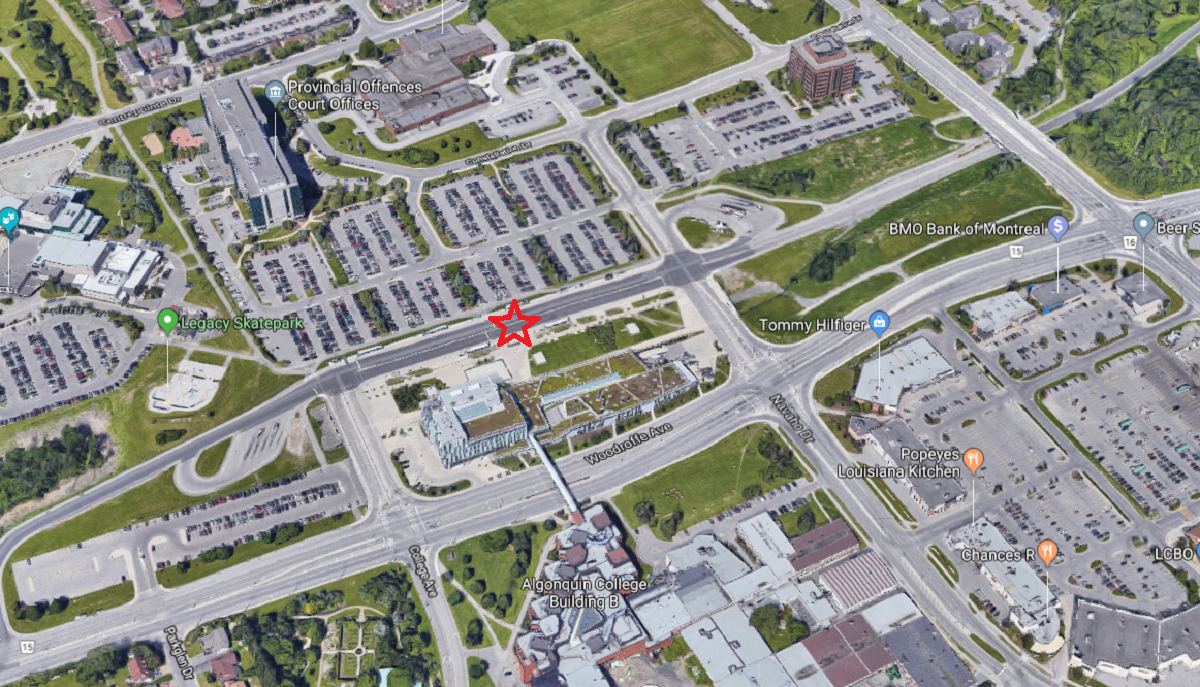 On the other hand, there's Longfields Station, in Barrhaven, as an example of how a suburban neighbourhood can be designed from scratch around transit, with no need to have people drive to the station. The station opened in 2011, but the neighbourhood was conceptualized many years earlier, with a plan adopted in 2002 to transform what was then 50 hectares of vacant city-owned land into a development with over 1,200 residential units. That vision is still underway, as Campanale Homes is building out their Longfields mixed-use community on the east side of the station. On the west side, there is an existing neighbourhood consisting of closely-packed single-detached homes and rowhouses, which connects to the station via a walking path. The area, Miguelez said, is becoming a "well-defined place."
"It is, as I understand, a very desirable location in Barrhaven now, so I would say that the station has integrated very well and continues to be a catalyst for development and place-making that is much more walkable than in typical suburbia," he said in an email.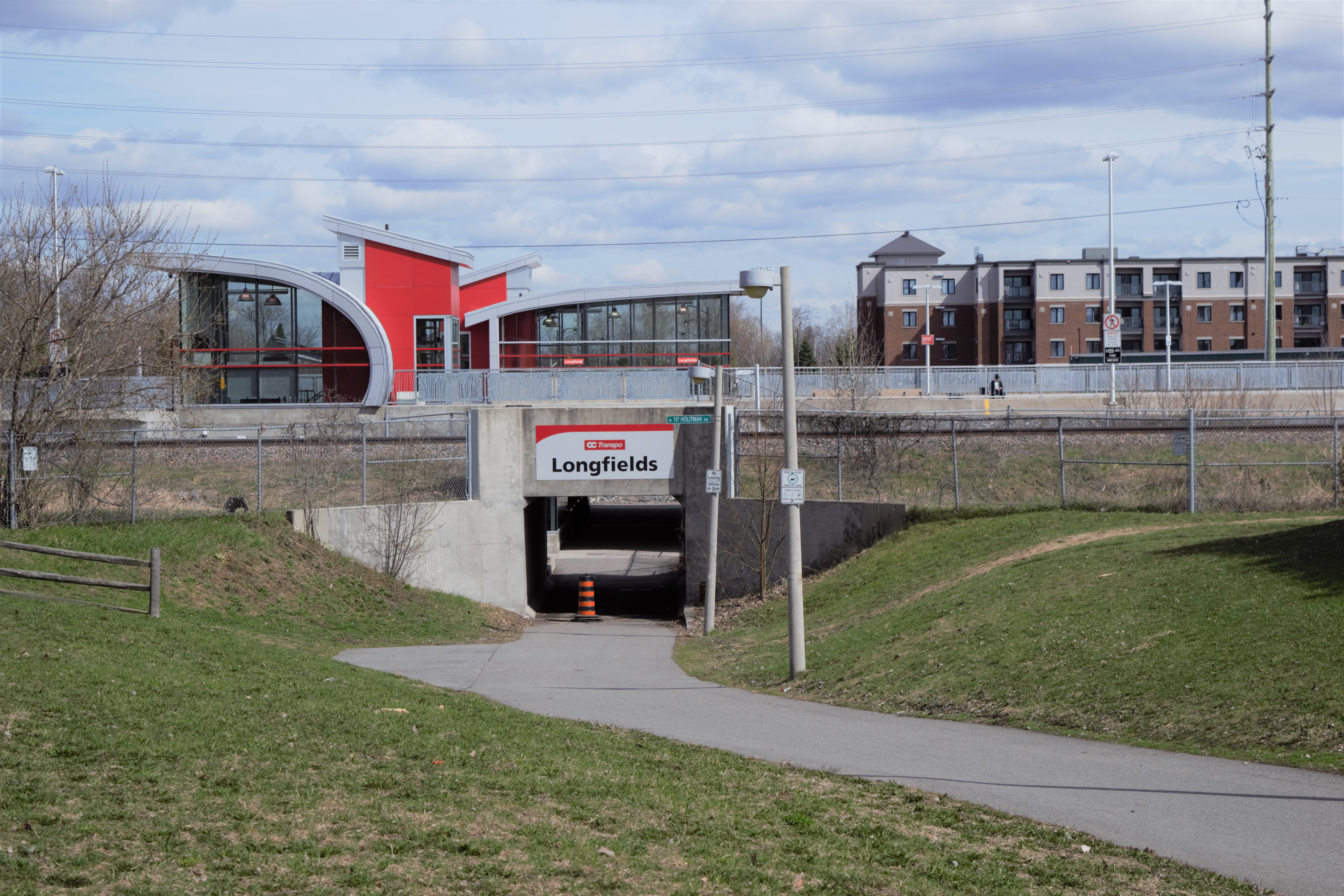 Above: Longfields Transitway Station in Barrhaven. (Photo/Devyn Barrie)
Below: The Longfields community seen from above.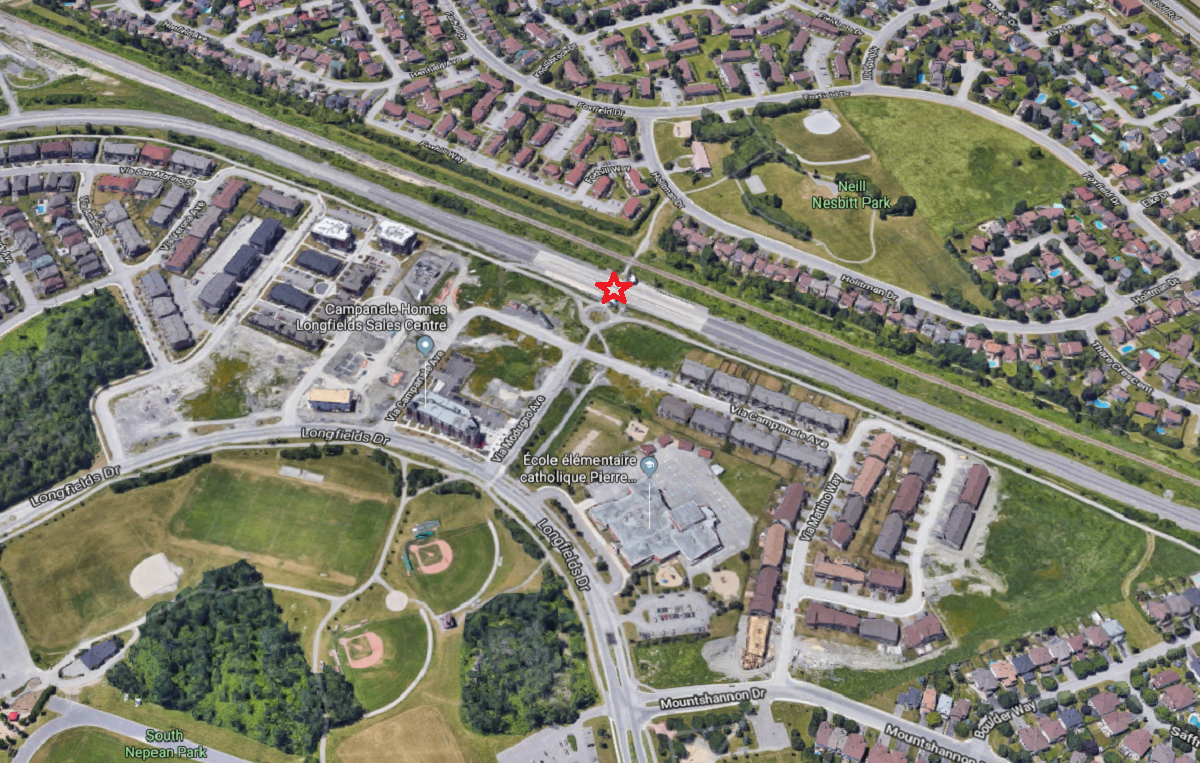 Another feature of Barrhaven are the bus lanes in the centre — not off to the side — of Chapman Mills Drive, for a stretch of just under two kilometres between Woodroffe Avenue and Longfields Drive. There's a single station on the stretch, at Beatrice Drive, served by route 99. This is Ottawa's first use of median bus lanes and they were added in 2014 at the cost of $5 million. Chapman Mills Drive was built extra wide with the intention of someday accommodating an expanded north-south LRT line — but these unique lanes were added instead after that LRT plan was canceled.
The City of Ottawa is planning to use the same concept along the Baseline Road transit corridor, to have a new rapid busway run with median lanes between Richmond Road, along Baseline Road, through to the Transitway at Heron Station. The $148-million plan for phase one, to build the busway between Baseline and Heron stations, was approved by city council in 2017. At last word, the city is working on a detailed design and shovels could be in the ground by 2020 with it open by 2022. Along with the Confederation Line eventually reaching Baseline Station, the planned transit infrastructure is expected to lead to significant intensification along this area in one of Ottawa's largest suburbs.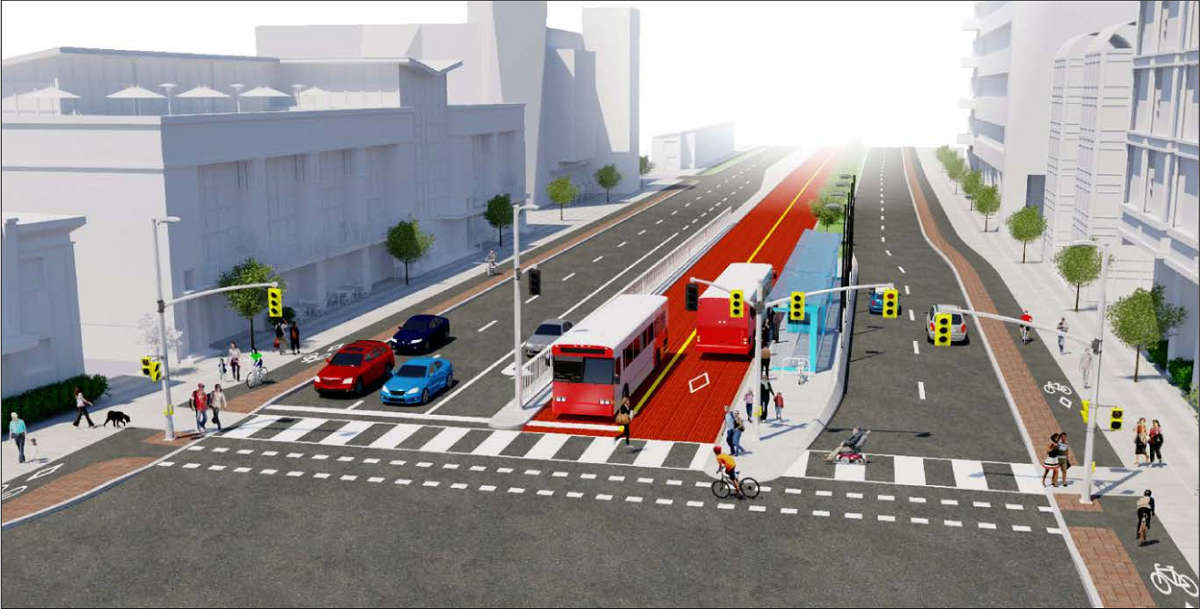 A concept of the Baseline Road busway, currently undergoing detailed design at the city. (Graphic/City of Ottawa)
Kanata could have been similar to Barrhaven, as the 2008 transportation master plan called for a Transitway extension into Kanata. It would have run from Eagleson Station, west to the Canadian Tire Centre, then southeast to Fernbank Road. But that plan was canceled with the 2013 transportation master plan, which now provides in its affordable transit network plan only a busway as far as Terry Fox Station. The new plan has no connection between Terry Fox and Palladium, with only transit priority measures from Palladium south to Fernbank. LRT is scheduled to go as far as Palladium Drive, but only after 2031.
Is the city getting it right?
While Ottawa has had some wins on the TOD file, vision and execution are still two very different things. Sometimes, the latter falls short, some observers say.
Coun. Catherine McKenney recently raised concern about a two-tower residential development by Claridge at Lyon and Queen Streets, at the Lyon LRT station. It will have 566 residential units and will tie in with the LRT station. But the 359 parking spaces that will be provided, as detailed in a city report, is far too many, McKenney said.
"If you want to encourage other modes of transportation and in this case, especially transit … you really can't induce demand for driving, you really have to limit that and encourage people to use transit," McKenney said.
But city staff recommended it go forward, and it was approved by the planning committee and, later, city council. McKenney said it would have been more appropriate for the developer to provide parking spaces for 10 or 20 per cent of the total units, which would have resulted in far fewer. She suggested the city, having eliminated minimum parking requirements, should introduce some maximums as well to ensure future developments near transit will encourage alternative modes.
Meanwhile, a Montreal developer has proposed a 25-story mixed-use building on Slater Street that would include 196 residential units for rental — with zero resident parking spots. Instead, it would have 18 parking spaces — all for visitors — and over 100 bicycle parking spaces. So, while the option is available to developers to provide however few parking spaces they want, McKenney said it is still the exception rather than the norm that they will opt to do so.
Alexandre Laquerre, a software engineer who lives downtown and has an interest in urban planning, said the city is going in the wrong direction by not implementing a parking maximum for these types of developments.
The city itself is making a big mistake on a major ongoing project, he said, pointing to the upcoming new central public library at 557 Wellington St., near LeBreton Flats. The total project cost is estimated at $175 million — including $18 million for an underground parking garage with 200 spaces. That's 10 per cent of the total cost of the project, Laquerre noted. Another way of putting it is that it's $90,000 per parking spot. The city expects to recoup the cost over 15–20 years through parking fees.
"They are talking two games here," he said, by putting the library near LRT but still making all these parking spots available.
He also critiqued the city's TOD plans for the first phase of the Confederation Line, saying there isn't much land around the stations available to be developed.
"Look at Lees, look at St-Laurent, look at Blair, and Cyrville. If you draw an 800-meter radius around the station, you can qualify the land as three categories: Already used, (land) that could potentially be developed, and (land) that will never be developed for various reasons, like it's water or there's a highway," he said.
The 800-meter radius he refers to is what most transit planners use to determine the catchment area around a transit station, as an 800-meter radius usually equates to a maximum 10-minute walk to get to the station. This is the standard Ottawa is using for its TOD plans.
To demonstrate how much space around the stations is not available for development, he created graphics of Cyrville and Tremblay stations, showing large portions around that are blocked. For example, at Tremblay Station, there is the Via Rail station that isn't likely going anywhere anytime soon.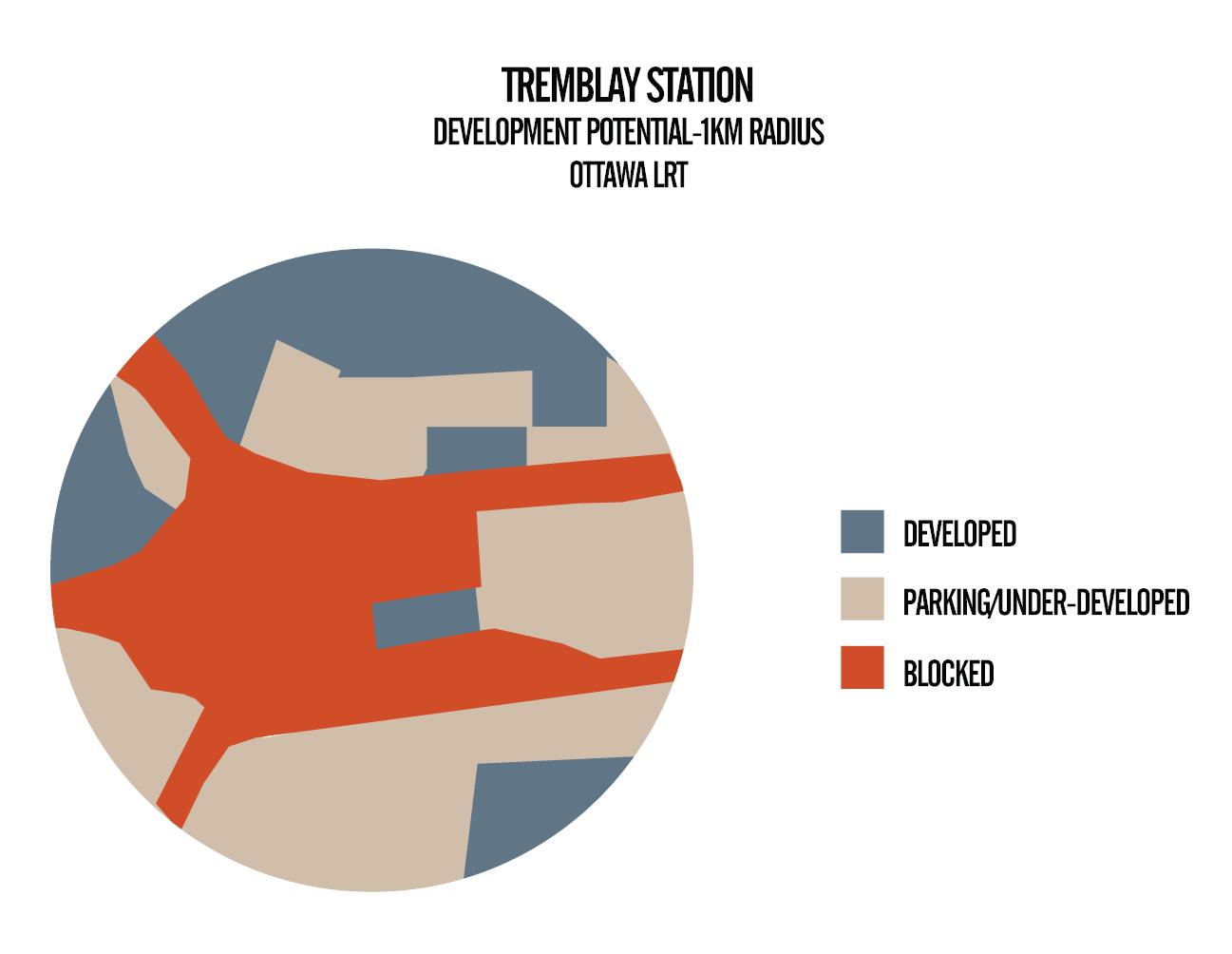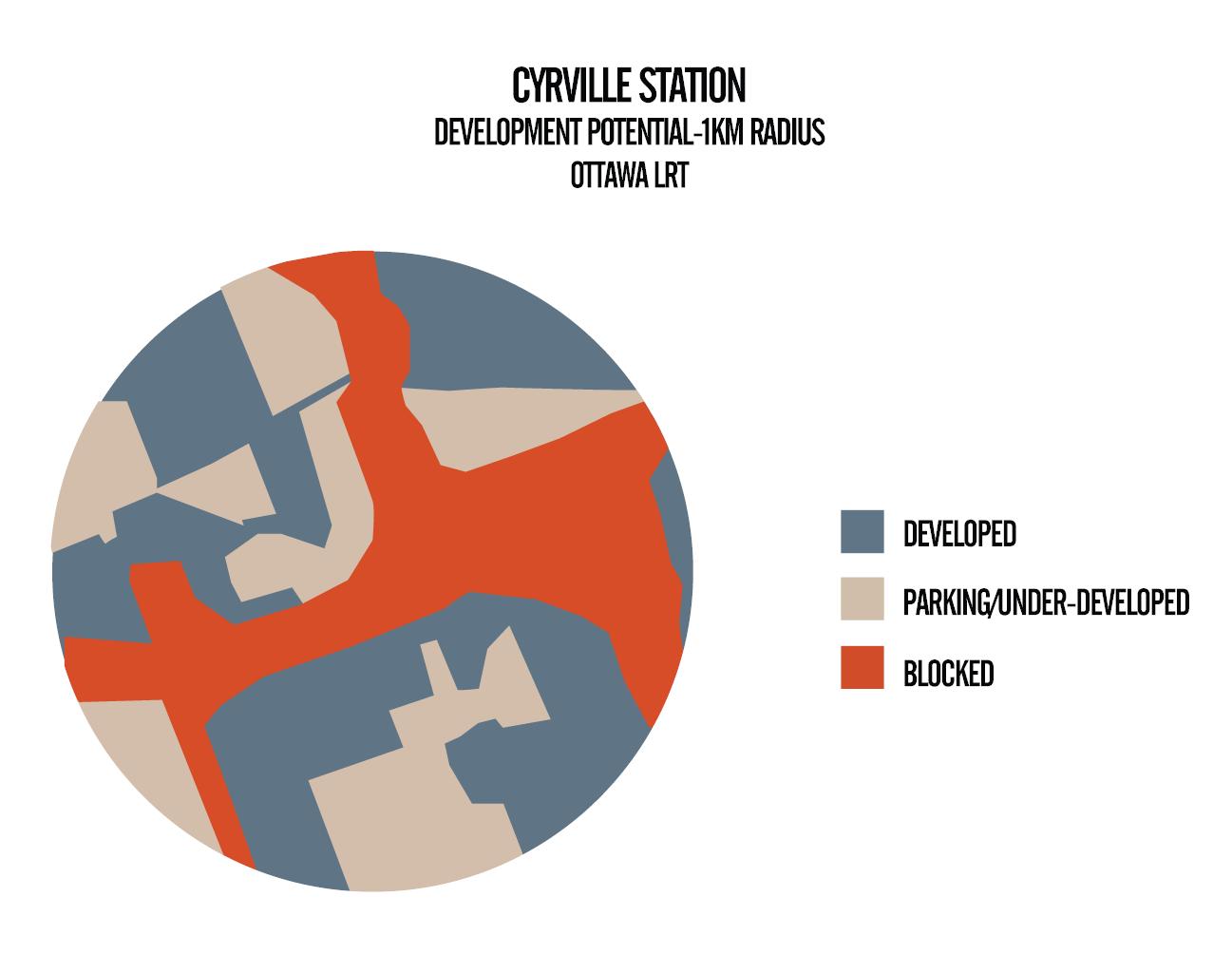 A representation of land uses at Tremblay and Cyrville Stations. (Graphic/Alexandre Laquerre)
Although his graphics also show land that is already developed, the city's plans account for that and in some cases expect that lands where buildings currently are will be redeveloped over time for new uses that are more consistent with TOD.
He also noted that the city is only expecting a 1.5 per cent increase to ridership this year, a year when the LRT will (hopefully) be opening. He said that seems low given $2.1 billion spent on the Confederation Line.
"It's a lot of money invested for very little gain in terms of moving people out of their cars," Laquerre said. It would have been better to align the LRT to reach areas where there is already a population base, rather than only follow the existing Transitway, as some stations along the selected route have nothing around them, he said.
Overall, he said he isn't particularly confident that either the city or the development community have enough will to make Ottawa a leader on intensification or TOD, and doubts the city will reach its target of getting to 50 per cent non-car-driver mode share in 12 years. He pointed to the parking space controversy over the development at Lyon Station and compared it to the Montreal developer's proposal for a Slater Street tower with no parking.
"I think this is great, but it looks like it has to come from an outsider," he said. "It seems like none of the big builders here are willing to change their practices … this is a lack of leadership (from the city)."
You can decide for yourself if the city is taking leadership, by getting involved in the consultation process for the new official plan. The city's website, Ottawa.ca/newop, has several discussion papers and a report that presents possibilities for Ottawa's future. You can also subscribe to a mailing list to keep informed of future opportunities to engage with the planning process.