Caffeine 1Up builds community with coffee -- and videogames
[caption id="attachment_79898" align="aligncenter" width="1000"]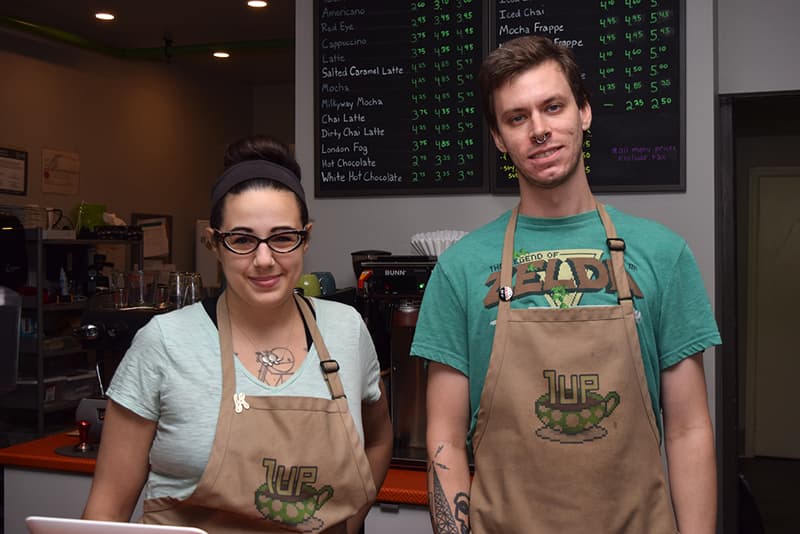 From left: Heather Powell, owner of Caffeine 1Up, and James Trelford, a barista who's worked there since it opened. The independent coffee shop is celebrating its first anniversary on Tuesday. (Devyn Barrie/OttawaStart.com)[/caption]
Caffeine 1Up's website describes its owner as a level 58 barista and a level nine business owner.
Oh and a platinum four in League of Legends.
Heather Powell might be worthy of a level up as her independent café hits its first-year anniversary on Tuesday, with plenty to celebrate.
"I am content and happy with how things are growing," Powell said in an interview at Caffeine 1Up on Friday morning.
The café occupies a small ground floor unit at 362 Rideau St., an old house which Powell previously said was built around 1910. As she spoke, the sounds of _ Hyrule Warriors _ emanated from a nearby Wii U setup where a lone player was hunkered down.
Around the time Powell first opened she told _ OttawaStart.com _ that her goal was to create what she calls a "social community" that's built around videogames. A year later, it looks like that's been a success, she said.
"Every now and then it's still a struggle, sometimes I've have to parent people and say 'hey, you should play this game together'," she said.
Since she implemented a challenge system, that's spurred more interaction among regulars. There's also a Facebook group active to allow people to chat and arrange to meet and play together.
"People are having little rivalries, it's fun to watch," she said. "It's getting more tight-knit I found."
Since opening, she's expanded the game library to about 400 titles from 100 and also added a PS4 to the selection of consoles. There's also weekly ladies' nights on Mondays and Tourney Tuesdays, where players compete for prizes.
In the future, Powell said she'd like to add more social events as well as host outside ones.
"I want to make this a place to do events in," she said. "My favourite event was a five-year-old having his birthday here."
Someone recently approached her to suggest a videogame-themed speed dating night – Powell's not really sure how that would work but said it would be interesting to try.
"I'd be into that," she said.
One of the biggest challenges of running a videogame café is understand who her customers are – something she quickly realized was a pointless task.
"When I first started I had a target demographic in mind… but then I started seeing new faces, I started seeing families coming in," she said. "(I realized) I need to make this place for everybody."
She originally wanted to get a liquor license but decided not to, she said.
Although the games are a huge part of the business, Powell said Caffeine 1Up is a café first – and has a full selection of coffee and (all local) food to choose from. Lots of customers, especially in the morning, come in just for those and skip the games, she said.
Despite being surrounded by so many dedicated gamers on a regular basis, her own gaming skills may have suffered.
"I need to practice more," she said. "But as a gamer I'm playing new things." _ Caffeine 1Up has a first anniversary event _ _ on Sept. 26, with a special edition of Tourney Tuesdays. There is no entrance fee but to play it is $5 per head. _