BACK TO THE ARCHIVES: Oatmeal! Oatmeal! North Gower! North Gower!
[caption id="attachment_53870" align="aligncenter" width="720"]

Back to the Archives delves into Ottawa newspapers on select Throwback Thursdays.[/caption]
Here's an interesting ad from the March 2, 1866 edition of _ the Ottawa Times _ , letting us all know of a farmer with one of the best mills in the land.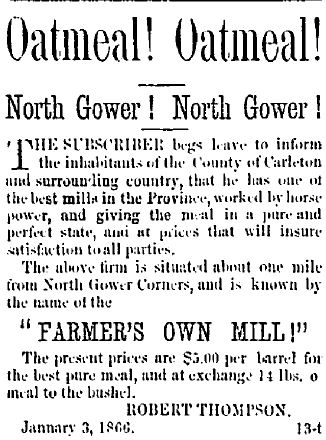 It's a little hard to make out so here it is in text:
_ "The subscriber begs leave to inform the inhabitants of the County of Carleton and surrounding country, that he has one of the best mills in the Province, worked by horse power, and giving the meal in a pure and perfect state, and at prices that will insure satisfaction to all parties. _ _ The above firm is situated about one mile from North Gower Corners, and is known by the name of the "Farmer's own mill!" _ _ The present prices are $5.00 per barrel for the best pure meal, and at exchange 14 lbs of meal to the bushel." _
Not sure the history of this particular newspaper. Does anyone know about _ the Ottawa Times _ ? _ ** Update: Thanks to Heritage Ottawa's Linda Hoad for looking up the Ottawa Times on Library and Archives Canada . According to their records, the paper published from December 1865 to January 1877. ** _