Babes4Breasts is back with a benefit concert, a cd, and a beer fundraiser
[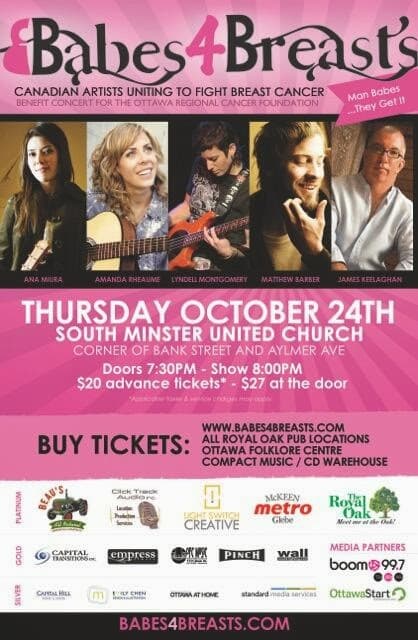 ](http://ottawastart.com/wp-content/uploads/2013/10/BVvUzfCCAAA_k8C.jpg)
OttawaStart is excited to be involved once again with Babes4Breasts (B4B) , a local fundraising initiative that includes a concert, a cd, beer, and more. Funds raised at this year's concert will go to the Ottawa Regional Cancer Foundation's Music Therapy Program and the Maplesoft Centre. B4B has raised over $80,000 since 2007.
 * 
**
 The concert:
**
This year's benefit concert takes place on Thursday, October 24 at Southminster United Church.  The line-up includes Matthew Barber, James Keelaghan, Amanda Rheaume, Ana Miura and Lyndell Montgomery in a song circle. I was at last year's show and it was one of my favourite Ottawa music events of the year.  Proceeds benefits the Ottawa Regional Cancer Foundation's Survivorship Centre's Music Therapy program. Tickets currently are available for advance purchase at Royal Oak locations, the Ottawa Folklore Centre, all Compact Music and CD Warehouse locations or online at
[
 www.babes4breasts.com
](http://www.babes4breasts.com/)
.

 * 
**
 The beer:
**
From October 6-20, the Royal Oak will be donating 25 cents from each pint and 75 cents from each jug of Beau's beer sold to Babes4Breasts.  Beau's will also donate 30% from every keg sold at the Royal Oak to the fundraising effort. The donations are made possible via a partnership between Beau's, The Royal Oak and Boom 99.7.   (You can also buy concert tickets and the cd at every Royal Oak in Ottawa.)

 * 
**
 The cd:
**
B4B's third compilation album features a roster of 15 outstanding Canadian artists including Juno Award winners Rose Cousins, Amelia Curran and the Good Lovelies, as well as Jenn Grant, Matthew Barber, Kate Fenner, Oh Susanna with Jim Bryson and many more. 100% of proceeds go to breast cancer related charities.

There's a kick-off party on Tuesday, October 15 at the Royal Oak at 217 Wellington which will include music, Beau's sampling and some free appetizers. More info here…
** See also: ** Ottawa Events Guide
If you liked this post, you should ** subscribe to etcetera , ** our free email newsletter. Featuring cool Ottawa events, interesting local news and contests and giveaways. Thanks!