Autowa no more? Transit-oriented developments key in switching Ottawa away from car city
"A window on transit in Ottawa" by Jamie McCaffrey. Used under a creative commons license.
(This is the first of a three-part look at transit-oriented development in Ottawa and how it can change the way we live and get around in the near future. We'll publish part two on Wednesday, and part three on Saturday, with special editions of our newsletter on those days. Subscribe to our newsletter here…)
Ottawa's new LRT system is set to change a lot more than just the way transit works in Ottawa. It will be the catalyst for a new kind of growth that can alter the face of the city while breaking up the car's monopoly on getting around town.
Intensification around key LRT stations has been planned to both reinvent neighbourhoods and sprout new communities. In the midst of a societal shift in the way people get around, these new transit-oriented centres will be key to the city's efforts in reducing Ottawa's car dependence.
As it works on a new official plan, the city is looking to keep the momentum it's had on intensification in the past few years — a file on which it's taken leadership on among Ontario cities, said Alain Miguelez, the city's manager of policy planning. Under the current transportation master plan from 2013, they're aiming to make non-car-driver (i.e., excluding car passengers) options take 50 per cent of the travel share by 2031. "If we touch that number, it's only going to be to increase it," he said.
Currently, the non-car-driver share during the daily commute is about 37.3 per cent, according to the 2016 census, the most recent source of data regarding modal share. The transportation master plan uses slightly different data from 2011 the city says can't be compared to the census because it looked at any trip made during the AM peak, not just those to get to work. In that data, the non-car-driver share was 45.3 per cent.
The momentum started in the 1980s, with the opening of the Transitway. It was the first bus rapid transit system in North America and was widely imitated across the continent, Miguelez said. It also gave Ottawa — then an unamalgamated city of under 600,000 — a taste of real rapid transit.
"It was rapid transit that flied from station to station. It was not stuck in traffic," he said.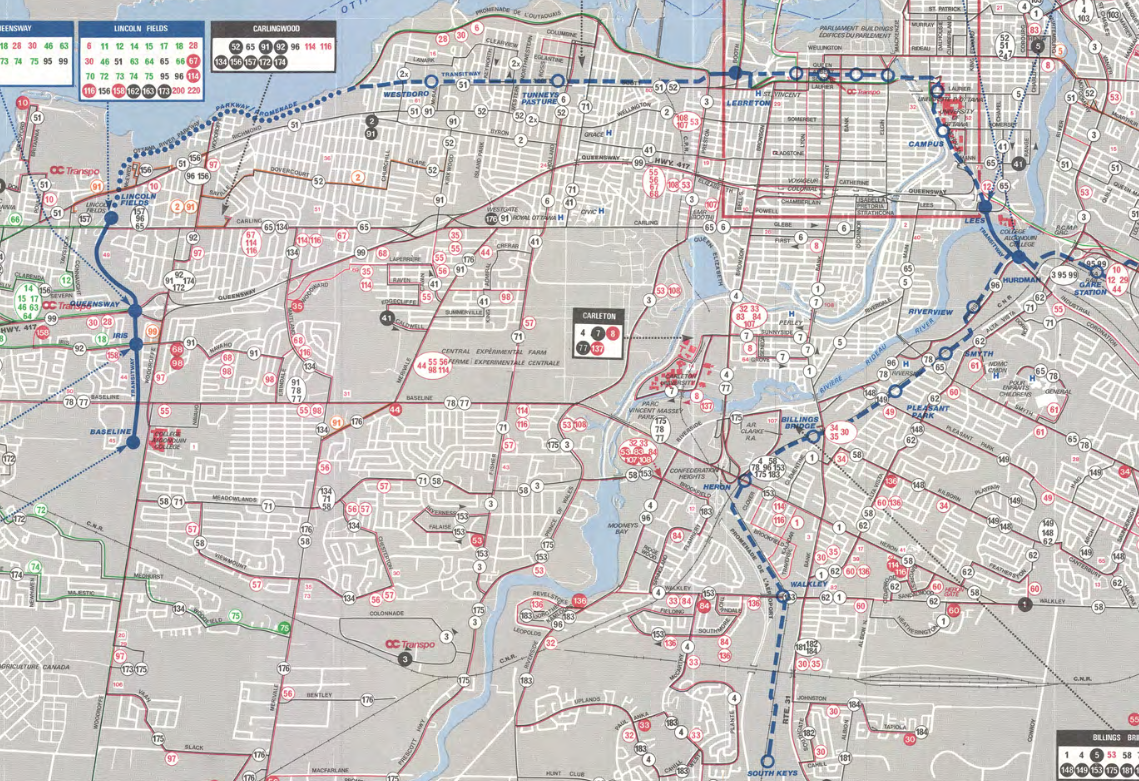 OC Transpo's 1984 system map. The Transitway (solid blue) ran between Baseline and Lincoln Field Stations. The broken blue line represents extensions yet to be built.
That taste spurred numerous developments over the years. Today, neighbourhoods near Transitway stations, like Lincoln Fields or Lycée Claudel, are very much shaped around transit usage, with high-density housing within short walking distance of the stations.
"There has been that appetite for people to be in a convenient location where they don't have to deal with driving in and being stuck in traffic on a highway," he said. "It means that people are already used to, and expecting, that very urban habit (of taking transit) to be part of their daily life."
Decades of the Transitway have cemented a multi-generational culture of transit in Ottawa, he said. He cited the transportation master plan, which shows transit had a 22.4 per cent mode share in 2011. This, Miguelez said, is on par with Toronto and Montreal. Among North American cities that do not have a subway, it's the highest.
LRT an opportunity to build anew
The planning department has picked up what the Transitway accomplished years ago and is carrying it over to the new Confederation Line. When construction began several years ago, they worked on several transit-oriented development plans for the land surrounding some stations. The approved plans are for Lees, Hurdman, Tremblay, St. Laurent, Cyrville and Blair. There was also a secondary plan created for Bayview, where a whole new neighbourhood will be built around that station.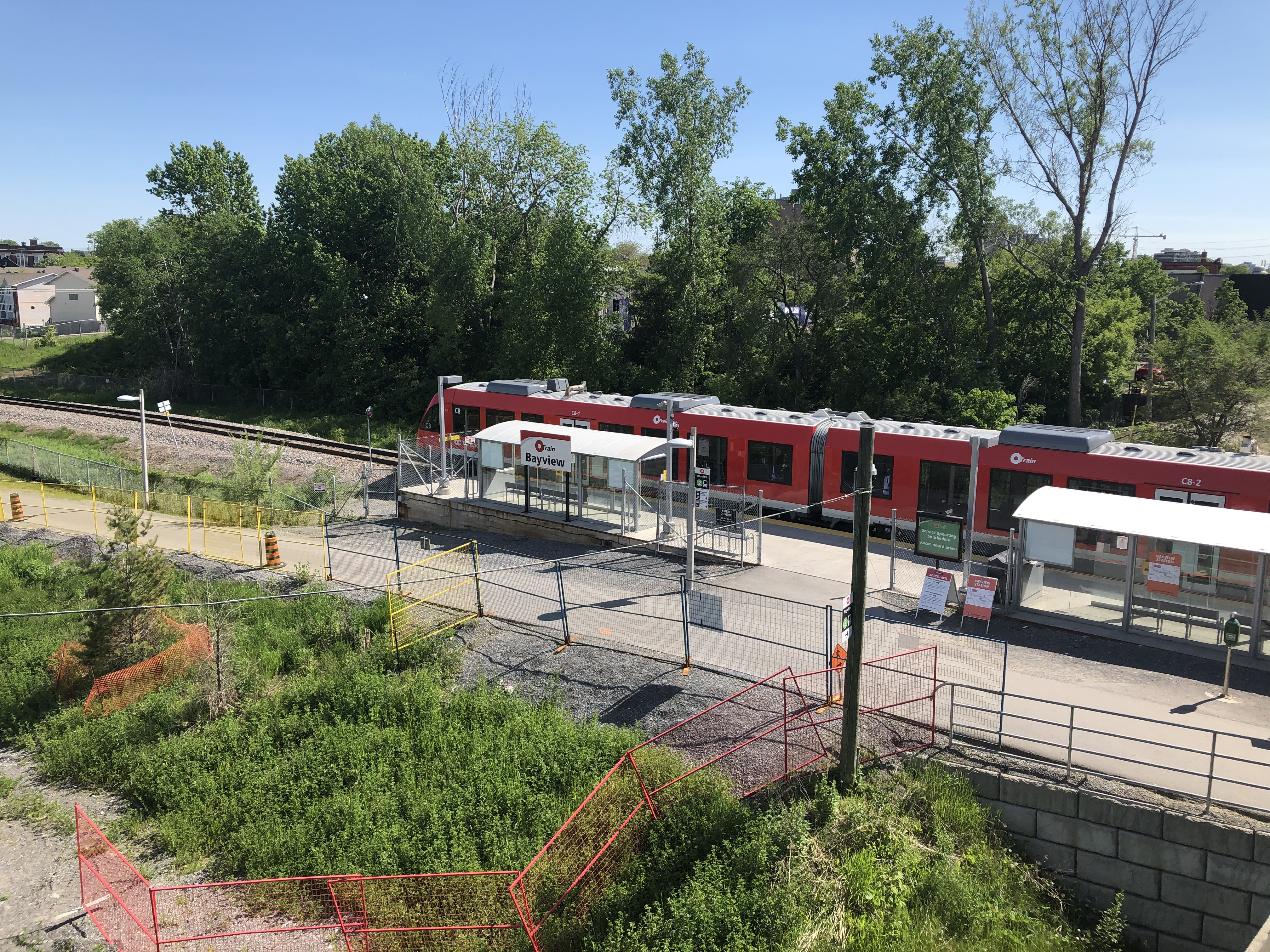 Bayview Station is at the confluence of the Trillium (pictured) and Confederation LRT lines. In time, a whole new neighbourhood will be built around them. (Photo/Devyn Barrie)
The federal government separately created a master plan for Tunney's Pasture, with the aim of transforming the site from a collection of office buildings into a livable mixed-use development over the next 25 years. The master plan calls for an expansive transit-oriented community with up to 3,700 residential units, an urban street grid, greenspace, retail and office space.
Transit-oriented development plans are similar to a community design plan; they both guide change in areas where growth is a city priority. TOD plans differ in that they set out the kind of future intensification that will happen to create a transit-supportive environment. This goes beyond a single site development — these plans are designed to create an entire transit-focused community. A secondary plan is another type of community design plan which is statutory and becomes part of the city's official plan.
What is a transit-oriented development? In a nutshell, the city's TOD guidelines describe them as: "A mix of moderate to high-density transit-supportive land uses located within an easy walk of a rapid transit stop or station that is oriented and designed to facilitate transit use."
Generally, this would mean mixed-use communities that put higher-density residential buildings like apartments in areas where people can work, shop and be entertained. They encourage modes of transportation besides driving, like walking, cycling and transit. Usually, they're located near rapid mass transit service like busways or trains although technically could be anywhere there is frequent service. The city has 56 guidelines that demonstrate what a TOD looks like.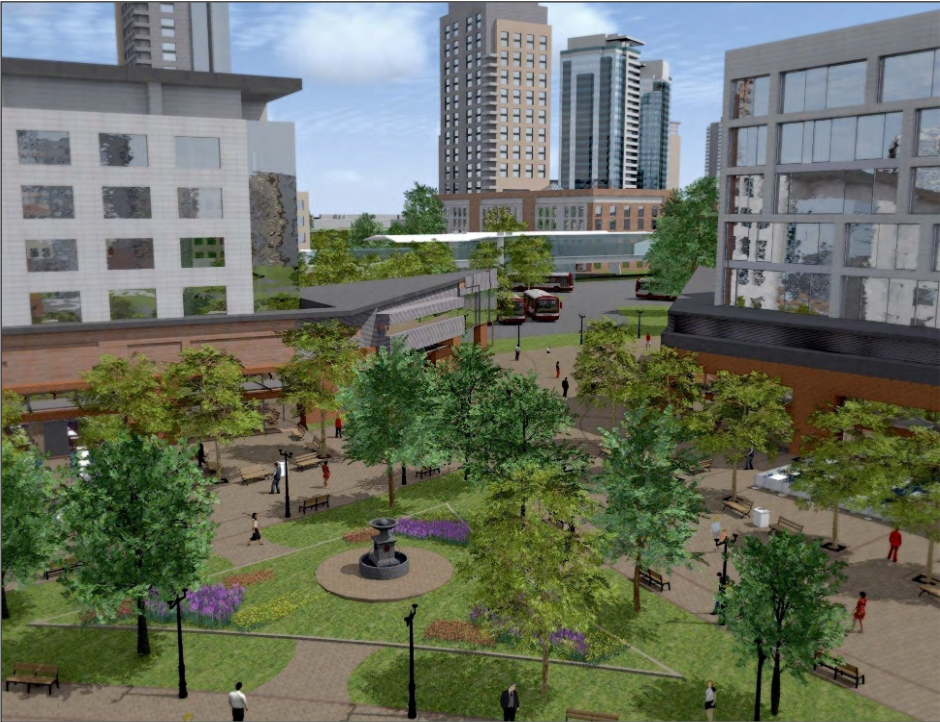 A city concept of how the area surrounding Hurdman Station, which is mainly vacant land at present time, could be built up.
Creating these TODs is an important part of encouraging a trend Miguelez said is on the rise lately, where more and more people — particularly younger generations — are not choosing the car. As the transportation master plan observed, young people are less likely to travel mainly by car. Transit is popular, as well as active forms of travel like cycling and walking.
This trend is being observed globally. The Wall Street Journal reported in April that the number of U.S. 16-year-olds with driver's licences has eroded down to around 25 per cent in 2017, from 50 per cent in 1983. The Ottawa TMP similarly noted data that shows younger people are less likely to have a driver's licence. At the same time, the number of households in Ottawa that have at least one vehicle was down to 84 per cent in 2011 from 87 per cent in 2005.
Creating environments where it's viable to not choose the car will reinforce that trend and give people more choices. Trevor Haché, member-at-large at the Healthy Transportation Coalition, said that's good for the health of the community.
"We know that our transportation system, because it's very reliant now on internal combustion engines, we know that that's very polluting. Not only to the planet, but it's bad for people's health situations," Haché said.
He said the city's goal of 50 per cent non-car-driver mode share by 2031 is a great goal to have, although said he was doubtful the city is doing enough to make sure they'll hit the target.
The goal should be to create more infrastructure that encourages people to choose active transportation through cycling or walking, or to take transit, something that TODs can help with. But he said the city's performance on this file so far hasn't been enough.
"There could be a lot more being done to the roads as they currently exist to make them better places for pedestrians and cyclists and public transit riders," he said.
The city does aim to increase the number of complete streets around the city. A complete street is one that is designed for the service and comfort of all users, not just private vehicles. Typically, that means bus lanes, bike lanes and wider sidewalks — but the exact form a complete street takes entirely depends on neighbourhood context, according to the city's guidelines on the matter.
"The vast majority of the 6,000 km of roads that the city's responsible for operating and maintaining are not complete," Haché said. The solutions don't necessarily have to be expensive, either. Even just flex-sticks to demarcate bike lanes on a road can make a difference, he said. Other cities around the world are taking more dramatic action — like Madrid, which closed much of its downtown core to cars, or Copenhagen, which rolled out car-free zones over the course of decades and now enjoys a 50 per cent cycling mode share for work trips, according to Fast Company. While the City of Ottawa has a complete streets policy, and seeks to create them where possible, he said political realities can mean city policies take time to be implemented.
Official plan presents opportunities
The city is currently working on a new official plan, the central planning document that will guide Ottawa's growth into 2031. The decisions that go into it will greatly impact what future Ottawa looks like in terms of development, transportation and all-around daily life, the city says. The ideas presented in that plan will also trickle down into a new transportation master plan, the current version of which was adopted in 2013 and will be reviewed in concert with the official plan.
"The transportation master plan presents an opportunity to improve active transportation, but all levels of government have to be willing to invest the funds needed to create safe pedestrian and cycling infrastructure," Haché said.
The Healthy Transportation Coalition wants to see a more inclusive, equity-based consultative process from the city as it works on the new official plan, Haché said. "We want folks that have been historically marginalized to be part of that discussion," he said. The coalition does a large amount of work around issues of transportation that can be used by people of all privilege and income, so consulting these groups would be an important part of creating an inclusive official plan. Haché said the group is working with the city on how to best do that.
As for Miguelez, he said the new official plan offers a chance for the city to review how well the current one, adopted in 2003, has served its needs and how it can be improved for a city of the future. The city's priorities around transit and development will continue, he said, and it will then be about taking them to the next level.
"I think we've built up a good, long history of TOD and putting a priority on that, that's not going to change," he said.
The focus will not so much be about whether to do TOD, but rather how to do it effectively, he said.
"The question now becomes, when you create something around stations, how do you … create a continuous urban fabric between the transit station and the abutting area, and beyond?"
The official plan can be viewed as part of that wider shift in how society gets around and be made to put in place the vision and policies necessary to support that, Miguelez said.
Wednesday: A look at housing affordability near mass transit, specifically the Confederation Line LRT. If you liked this article, please consider subscribing to our newsletter…__