APT613: A look inside the new Ottawa Art Gallery
The Ottawa Art Gallery opened its new building at 50 Mackenzie King Bridge on Saturday and Apartment613 got a look inside beforehand.
The new six-floor building is part of the City of Ottawa's arts hub, called the Arts Court, and contains 55,000 square feet of programmable space for the OAG.
[caption id="attachment_89641" align="aligncenter" width="720"]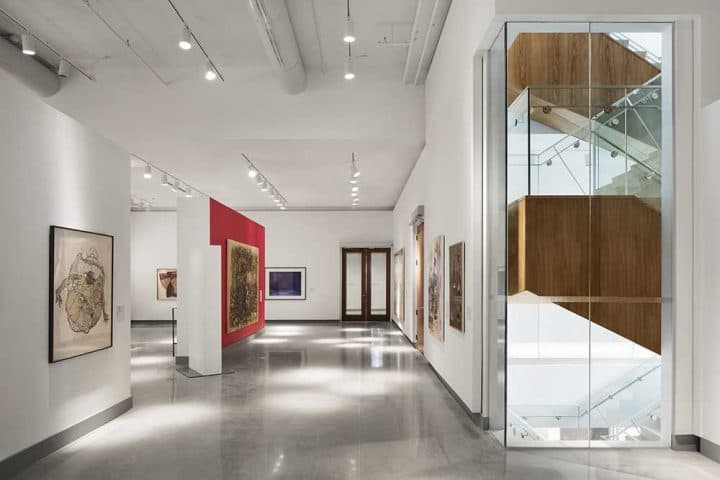 Exhibition view of OAG's inaugural exhibition Àdisòkàmagan / Nous connaître un peu nous-mêmes / We'll all become stories, 2018. (Adrien Williams/handout)[/caption]
"The stunning contemporary new building offers glimpses of the urban core and includes rotating galleries for historical, contemporary and touring exhibitions, an art studio, two rooftop terraces, a large multi-purpose room and a café all provided within a barrier-free environment," said a press release from the OAG.
Along with the opening is a new exhibit: _ Àdisòkàmagan / Nous connaître un peu nous-mêmes / We'll all become stories, _ which the gallery called a "landmark exhibition of unparalleled scale," showing 6,500 years of art heritage in the Ottawa-Gatineau region.
The new facility also boasts free child-care on Wednesday evenings and during vernissages, as well as gender-neutral washrooms. Admission is free and the operating hours are 9 a.m. to 9 p.m. daily.
"The new Ottawa Art Gallery has been designed with a sense of interconnectivity, manifested not only in the beautiful architecture, but also in its approach to community," said Alexandra Badzak, director and CEO of the Ottawa Art Gallery, in a press release. " You will see a gallery that is accessible, breaks down barriers to participation, a gallery that is free and open when you need it to be, a gallery that embraces diversity, a gallery for you." Check out the inside of the gallery on apt613.ca…