A subway down Bank Street: Let's look at some imaginary/speculative Ottawa transit maps
Most people who've taken the bus in Ottawa have probably spent some time on their commute dreaming about the ultimate, pie-in-the-sky, never-in-a-million-years Ottawa transit system. You know, subways from Barrhaven to Canadian Tire Centre, rail tunnels beneath the Ottawa River, that kind of thing.
In light of the new transportation master plan release last week, let's revisit some Ottawa transit dreamin'.
Not sure of the origin of this map but it's called "Scubway". (It comes with a four-phase plan and some detailed text which you can downoad here .)  This is my favourite map because it includes a north-south inter-provincial subway branch, all the way from Gatineau, down Bank Street and to the airport!
[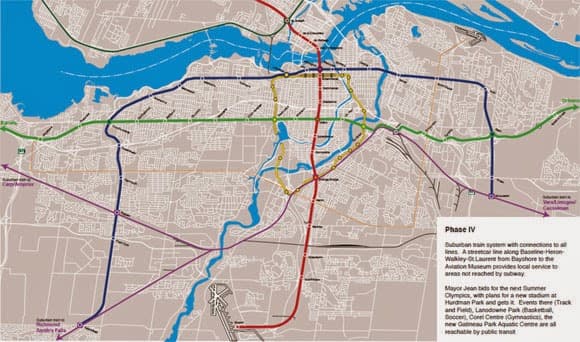 ](http://ottawastart.com/wp-content/uploads/2013/10/scubway.jpg)
---
This one is from eternallyme from the SkyscraperPage Forum , with five separate coloured subway lines criss-crossing the city. This one isn't too far off from the city's 2008 plan for rapid transit, but also integrates Gatineau transit. (I also like this one because I could take a subway from my home in Stittsville to my office in Kanata, with one transfer point.)
"Nothing really revolutionary, except that I combine commuter rail and regular rail by using dual-mode vehicles to serve outlying areas during rush hour. If ridership and development warrants, those lines could be converted later."
[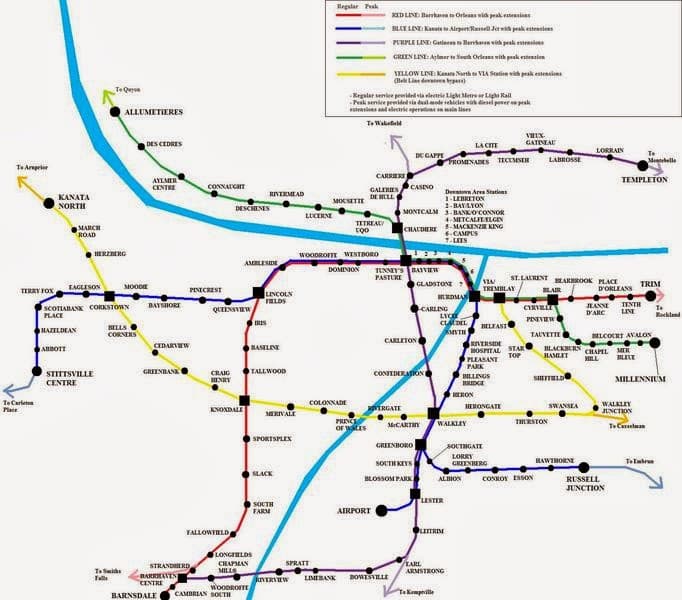 ](http://ottawastart.com/wp-content/uploads/2013/10/railplan.jpg)
---
Here's one from jk1982 on the SkyscraperPage Forum .
Purple = O-Train
Red = Transitway
Blue = HOV Lanes
Green = "Quicklink", served by 40 foot buses
[

](http://ottawastart.com/wp-content/uploads/2013/10/inercity.png)
---
There are a couple more ideas here and here .
And finally, to bring us back to reality, here's the map of "Stage 2", the actual plans for mass transit in Ottawa by 2031. (Incidentally, the folks over at the Public Transit in Ottawa blog did a fine job of comparing the 2013 vision for 2031 vs. the 2008 vision for 2031. Check out "Transit corridors that are no longer considered priorities" .)
[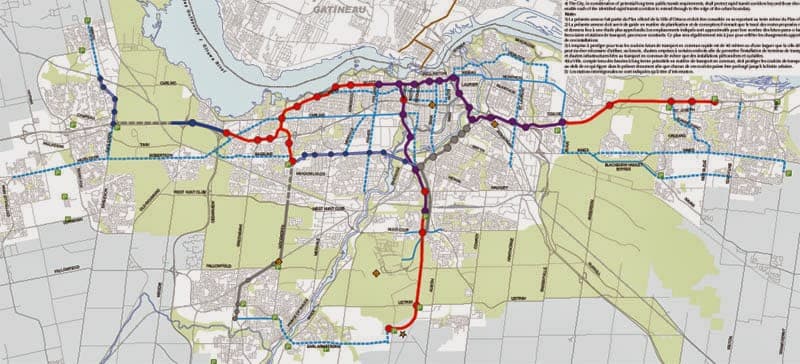 ](http://ottawastart.com/wp-content/uploads/2013/10/2013-transit-priorities.jpg)

   (

  [
   Download a full-size PDF map here.
  ](http://ottawa.ca/sites/ottawa.ca/files/tmpmap2_rapid_ttpn.pdf)

   )

** See also: **
Ottawa OC Transpo Guide
If you liked this post, you should ** subscribe to etcetera , ** our free email newsletter. Featuring cool Ottawa events, interesting local news and contests and giveaways. Thanks!