A list of Santa Claus parades in Ottawa (2017)
[caption id="attachment_83569" align="aligncenter" width="1038"]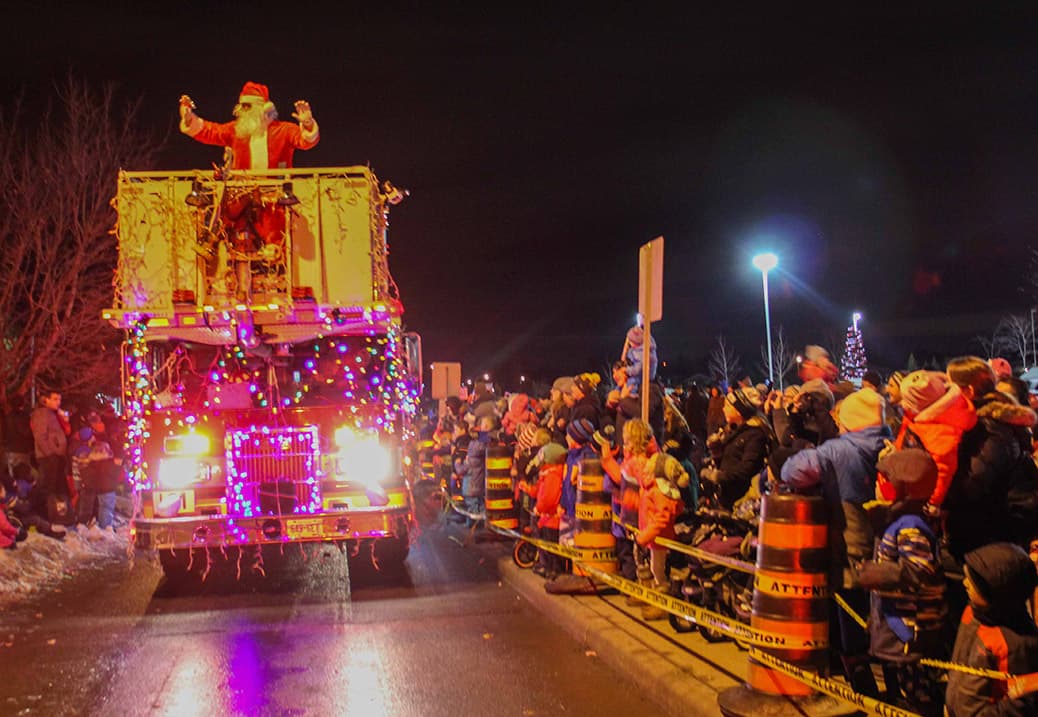 Santa Claus waves during Stittsville's Parade of Lights in November 2016. (Barry Gray photo)[/caption]
A list of Santa Claus parades in Ottawa. To add to this list, email feedback@ottawastart.com . ** Nov. 18: 48th Annual Santa Toy Parade @ 11 a.m. ** Via the Ottawa Professional Fire Fighters' Association:
> > _ Every year since 1969, the Ottawa Professional Fire Fighters' Association has been organizing the Help Santa Toy Parade and collecting toys along the parade route for distribution to the less fortunate children in Ottawa-Carleton. _ > > > > _ Fire fighters will collect new toys and cash donations along the route. Due to the fact of the numerous amount of unsuitable used toys that have been dropped off over the years we will no longer accept used toys of any kind. New and Used toys can be dropped off at any of the Salvation Army Thrift Stores. _ > > > > _ We will also accept new toys at any Ottawa Fire Station up until the mid December. Unfortunately we are not able to arrange for toy pickups outside the stations _ > >
The parade starts at Ottawa City Hall on Laurier Street at 11 a.m and runs along Bank Street toward TD Place. Here's a map:
[caption id="attachment_83579" align="aligncenter" width="1000"]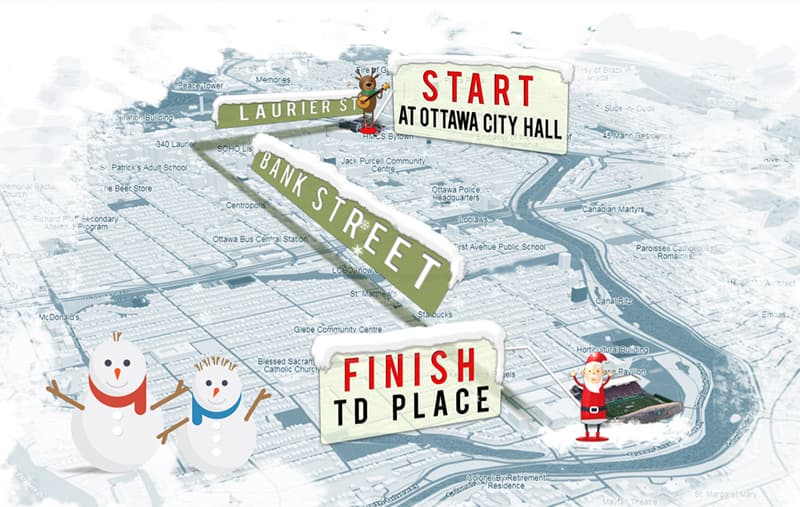 Via toyparade.ca[/caption] ** Nov. 18: Barrhaven Santa Claus Parade @ 5:30 p.m. ** Starts off with fireworks at 5:20 p.m. Route runs along Strandherd Drive, beginning at Beatrice Drive and heading west toward the OC Transpo park and ride. More info… ** Nov. 19: Kanata Hazeldean Mall Parade @ 1:30 p.m. ** Parade begins at Terry Fox Drive and Castlefrank Road, running along Castlefrank Road to Abbeyhill Drive and ending at the Hazeldean Mall.
After, join Santa inside the mall for photos. More info… ** MORE ** ** Dec. 2: **
 * 
[
 Manotick Lions Santa Claus Parade @ 1 p.m.
](http://manotickvillage.com/event/olde-fashioned-christmas/)

 * 
[
 Richmond Santa Claus Parade @ 5:30 p.m.
](https://richmondvillage.ca/event/santa-parade)

 * 
[
 Stittsville Parade of Lights @ 6 p.m.
](http://www.stittsvilleva.com/event/stittsville-parade-of-lights/)

 * 
[
 Santa's Parade of Lights in Orléans @ 6 p.m.
](http://paradeoflights.org/en/parade_route.asp)

** Dec. 9: Carp Santa Claus Parade @ noon **