A big list of Ottawa food and restaurant blogs
[caption id="attachment_4967" align="alignnone" width="580"]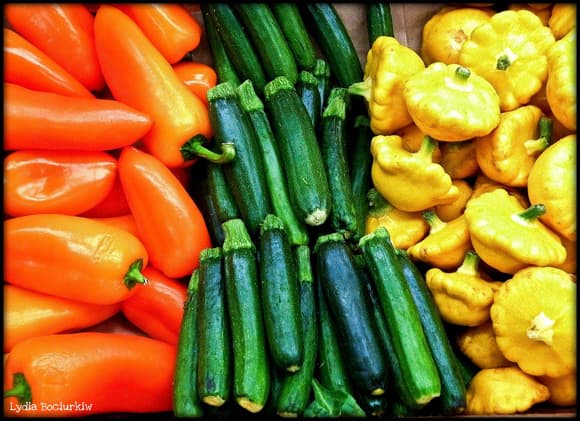 Veggies. Photo by Lydia Bociurkiw .[/caption]
When we started this list in 2009 , there were around 20 active food blogs included in our listing. By 2011 that number mushroomed to 60 active blogs, but now the food blog trend has subsided.
The ones that are left are great: lots of photography, reviews, recipes and tips for foodies of all abilities and tastes. We welcome your suggestions, click here to contact us…
Restaurant listings
 * 
[
 24 hour restaurants
](http://ottawastart.com/useful-links/24-hour-stores-services/)
(list of restaurants that are open 24 hours a day in Ottawa)

 * 
[
 EatSafe Ottawa
](http://app01.ottawa.ca/inspections/index.html?type=food&lang=en)
Any restaurant, grocery store, cafeteria, or business that serves food to the public has to be regularly inspected by municipal officials. This web site lists the results of the latest inspection for every one of these food businesses.

 * 
[
 OttawaFoodies
](http://ottawafoodies.com/)

 * 
[
 Ottawa Street Food
](http://streetfoodapp.com/ottawa)
(food trucks)

 * 
[
 Check out our Beer and Wine web site listings too...
](http://ottawastart.com/useful-links/beer-wine/)

 * 
[
 Suggest a site for this list...
](http://ottawastart.com/contact-us/)

Ottawa Food Blogs
The criteria here is simple: If it's a food blog, if it's based in Ottawa, and if it's updated regularly, we'll list it here.
 * 
[
 After The Harvest
](http://aftertheharvest.blogspot.com/)

 * 
[
 Barrhaven Bites
](http://barrhavenbites.blogspot.com/)

 * 
[
 Canucks in the Kitchen
](http://www.canucksinthekitchen.com/)

 * 
[
 CapitalDining.ca
](http://www.capitaldining.ca/)

 * 
[
 City Bites
](http://www.ottawamagazine.com/restaurants/city-bites/)
(from Ottawa Magazine)

 * 
[
 Constantly Cooking
](http://constantlycooking.wordpress.com/)

 * 
[
 Culinarily Inclined
](http://culinarilyinclined.com/)

 * 
[
 The Domestic Blonde
](http://thedomesticblonde.com/)

 * 
**
 [
  foodiePrints
 ](http://www.foodieprints.com/)
**

 * 
[
 The Food Tease
](http://www.thefoodtease.com/)

 * 
[
 Franklin on Food
](http://franklin-on-food.blogspot.ca/)

 * 
[
 Je Suis Alimentageuse
](http://alimentageuse.com/)

 * 
[
 Lord of the Wings
](http://lordofthewings.blogspot.com/)

 * 
[
 The Mindful Mavens
](http://themindfulmavens.com/)

 * 
[
 @nachos613
](http://ottawastart.com/nachos613-ottawa-best-nachos-reviews/)
(instagram)

 * 
[
 The Pestoblog
](http://www.soscuisine.com/en/blog/)

 * 
[
 roneade.com
](http://roneade.com/)
_
 (Ron Eade, a former food editor for the Ottawa Citizen, passed away in 2015)
_

 * 
[
 Salt and Serenity
](http://www.saltandserenity.com/)

 * 
[
 Toast Under the Table
](http://toastunderthetable.blogspot.ca/)

 * 
[
 Warm Vanilla Sugar
](http://warmvanillasugar.com/)

 * 
**
 [
  Weighty Matters
 ](http://www.weightymatters.ca/)
**

 * 
[
 Suggest a blog for this list...
](http://ottawastart.com/contact-us/)