'A beautiful place': An afternoon at Rideau Hall
One of the key attractions of Rideau Hall are the extensive grounds, where most public events are held. Gov. Gen. David Johnston prepares to read a children's book by astronaut Chris Hadfield to a group of children on the grounds in June, 2017. (Devyn Barrie/OttawaStart.com)
When asked how she would describe Rideau Hall's abundant green space, Deborah Cupello chose to call it "enchanting." And "calming", "beautiful" and "welcoming."
Cupello was with her mother on a park bench just inside the Sussex Drive gate, taking a break after a tour on Tuesday afternoon.
"We're just tourists," she said, explaining that they come from London, Ont. They decided to make Rideau Hall a stop on their trip because of its historical significance – which they got an in-depth look at thanks to their tour, she said.
Cupello and her mother are one of thousands of visitors to the official residence each year. In 2016, over 350,000 people visited.
Summer is the most popular time of the year to visit Rideau Hall. Thousands will go for a stroll on the winding paths of the estate, have a picnic somewhere on the brilliant green lawn, or go for a free tour of the building's state rooms.
Despite being both the residence and workplace of the Governor General, it's open 365 days a year from 8 a.m. to one hour before sunset. It rarely closes, except in cases of official occasions – a recent example being the visit of Prince William and Duchess Kate in 2011.
Otherwise it's open house – sometimes lending itself to spectacular results.
"I remember one summer… the Prime Minister was going for a walk on the grounds," said Mallory White, senior interpreter of guest services at Rideau Hall who's guided tours for six years. "(Another time) the princess of Japan walked right by my school group."
The most prominent of attractions at Rideau Hall are the grounds of the 79-acre estate, where most public events are held.
"It's a beautiful place," said Deborah Cupello. "It reminds me of Europe."
If they invoke a European feel, that may be because the grounds were designed in the British style by Charles Stanley, the first governor general following Confederation in 1867, and his gardeners. The style is characterized by open grass, separated trees and a water element.
"In its purest, simplest form, it's a wonderful place for a stroll," White said. "Read a book, have a picnic… you can literally stop and smell the roses."
---
Photo gallery: An afternoon at Rideau Hall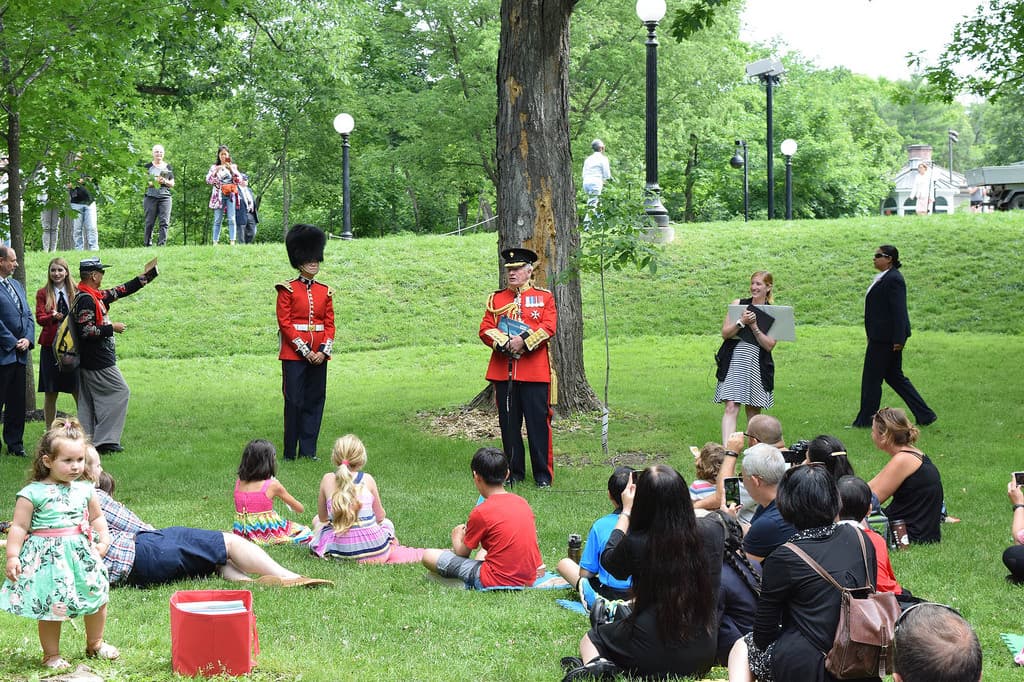 Photos by Devyn Barrie/OttawaStart.com
---
There's no shortage of shade, with over 10,000 trees dotting the landscape, many of which were ceremonial plantings by visiting dignitaries. Among those who have made plantings are Prince Charles (once in the 1980s and as recently as Canada Day), John F. Kennedy and even Mikhail Gorbachev.
The Canadian Heritage Garden offers a place to sit and contemplate, amongst roses and shrubbery.
The two cricket pitches near the MacKay Street gate of the estate are still the site of regular games on most summer weekends, as they have been for about a century.
There's even tidy competition to the Changing of the Guard on Parliament Hill – every hour, on the hour from 9 a.m. to 5 p.m., watch sentries march outside the front doors and down to the Sussex Drive gate in what is called the Relief of Sentries.
And although White said the crowd thins a bit in the winter months, there is still plenty to do.
"We do get people coming, they'll do cross-country skiing… (and) snowshoeing," White said. The Rideau Hall skating rink alone attracts thousands every year, she said.
Inside the mansion, there's plenty to see. Tours are available year round for free and take visitors to all the state rooms, still used today for official purposes.
See the ballroom, used for award ceremonies and swearing in the cabinet.
Or the tent room, a large cloth-covered room which is used for receptions and, in its heyday, was Canada's first indoor tennis court.
Or the long gallery, which White remarked on Tuesday seemed to have had its furniture moved recently – either for cleaning or a future event, she did not know – where a piano that once belonged to famed Canadian pianist Glenn Gould sits in the unreachable distance, always tuned and ready to be played.
All around the residence, art hangs from the walls. In the main entrance, portraits of the Canadian governors general are hung. Portraits of the British ones are hung in the tent room.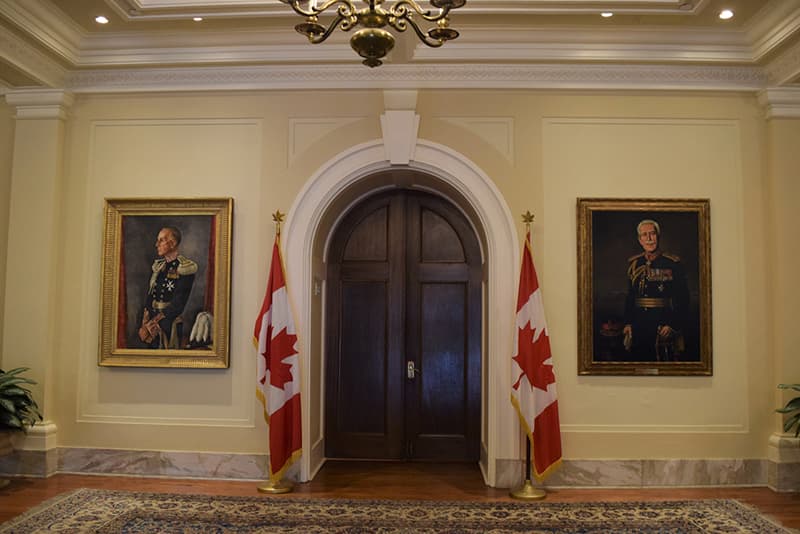 Inside the entrance hall of the mansion.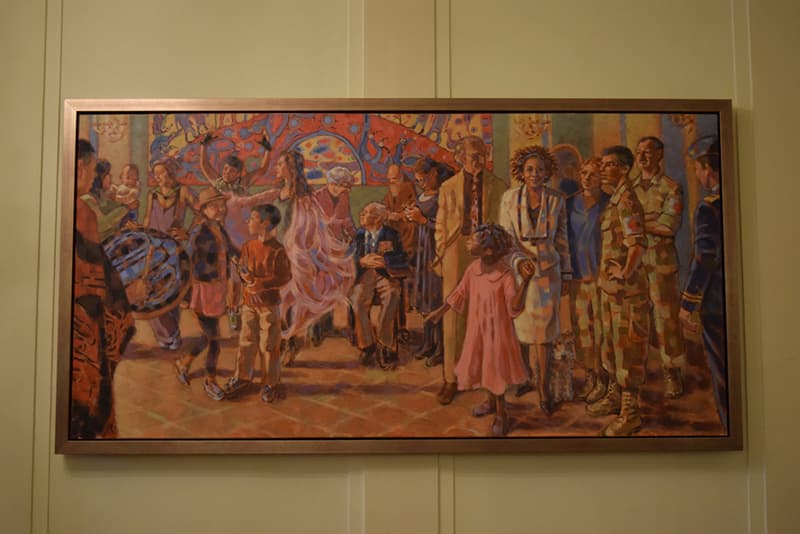 Portrait of Michaëlle Jean hanging in the entrance hall. The painting depicts elements of Jean's tenure – such as the Canadian Medical Corps, which represents the conflict in Afghanistan.
The Queen looks over the ballroom in a stately portrait more than three metres tall, painted in 2012 by Canadian Phil Richards for the occasion of her Diamond Jubilee. It depicts Her Majesty inside Rideau Hall, her hand resting on a desk near a copy of the British North America Act, 1867, the document that led to Confederation.
Tours during the season depart every ten minutes and are available in either official language. Some guides even speak a third language, such as Spanish, German or Farsi, White said.
"You really can just come and hop on the next tour," she said. Even in the dead of the winter, tours are available although reservations must be made by calling 613-991-4422.
Although a local attraction, Rideau Hall is particularly popular for visitors from outside the city or even country. White, who lives in Ottawa, confessed that her first visit was to interview for her job.
"Just come and check it out, this is a gem on your doorstep," she said. "There are so many countries where these kinds of (places aren't) accessible to the public."